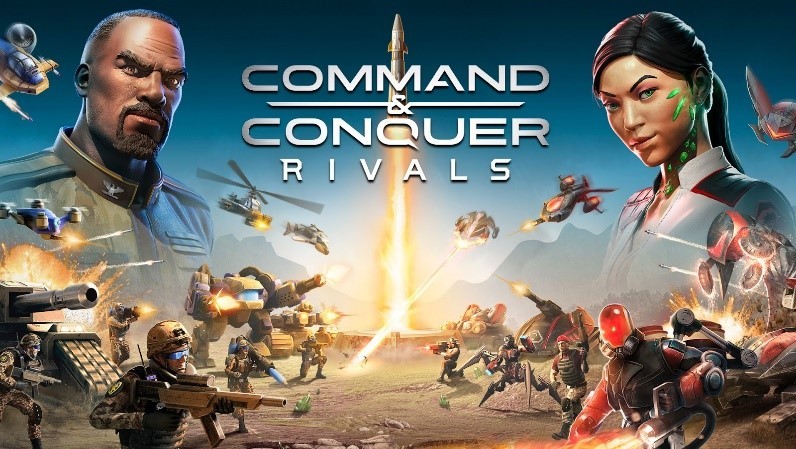 Today, we're excited to welcome all Android and iOS players from across the world to join us in Command & Conquer™: Rivals! We can't wait to have you experience this new real-time strategy game built from the ground up for mobile. Take control of individual units in an all-out-war for Tiberium in intense 1v1 matches fueled by competition, skill, and strategy.
WHAT IS COMMAND & CONQUER RIVALS?
Command & Conquer Rivals is the real-time strategy game on mobile. Lead your army to victory in The War for Tiberium with Commanders from the Global Defense Initiative and Brotherhood of Nod. Customize your army with a unique commander, infantry units, and vehicles. Conquer opponents in one-on-one battles and strategically direct your forces to earn every victory. In this war, control is power.
Control Your Army and Dominate Your Rivals
Customize your army with winning combinations of infantry, tanks, aircraft, and high-tech behemoths that align with your Commander's unique abilities, then unleash formidable weapons and vehicles in all-out war with other players as you fight for map superiority in head-to-head real time battles!
Battle to the Top of the Leagues
As you fight your way to the top of the Command & Conquer: Rivals Leagues you'll unlock exciting new rewards, unlock new units, and battle through new regions. Track your progress with your Player Profile, which contains stats on your League, Medal count, and Player Level, recent games played, win rate, and more.
Compete in Intense Matches with Rivals Fairplay
Command & Conquer: Rivals Fairplay ensures each of your matches are fun, fair, and highly competitive. With unit level caps on Leagues, win streak bonuses, and progress milestones, you'll be pitted against the right opponents. In the rare event you face a challenge battle, you won't lose progress if you don't win - but you will advance even quicker if you do!
Learn More
Become a Rivals Champion
The signature in-game competitive experience, with Rivals Champions you will complete in matches from a unique Champions matchmaking pool. The better you perform, the bigger rewards you earn - on top of the standard rewards for playing battles! Make a name for yourself on the Rivals Champions Leaderboard.
MASTER THE GAME WITH COMMANDER TRAINING
With videos ranging from the Beginner Guide above to advanced tips and tricks, there is a network of creators already putting together amazing content designed to help you get into Command & Conquer Rivals and grow your skills to the next level. To help raise these powerful voices in the community, we've established the Commander Training program, where you can find the tutorials you'll need to truly dominate on the battlefield.
Check out the full catalogue of Commander Training videos released to date, and keep checking back as more come!
If you're looking for even more guides, get connected with the amazing Command & Conquer: Rivals Community to find even more awesome tips, such as:
JOIN THE COMMUNITY
Connect with players from the world over as we all compete together in Command & Conquer Rivals. As part of the Rivals Community, you'll be able to connect directly with the development team, talk tactics with other players, join Alliances to expand your experience with the game, and find out important information about new features and updates.
Here's some of the places you can join us:
Official Platforms:
Fan-Run Platforms:
This is just the beginning of Rivals journey. We will continue to work with you, our community, as we refine and balance the game and add new features and content. We hope you enjoy the game, and we value any thoughts and comments you have. Please share your feedback on the forums or Discord. We're looking forward to hearing your thoughts and feedback as we work together to make Rivals the best it can be.