There are zillions of guns in Bloodcrusher II, all randomly generated from a select list of parts to quickly satisfy any digital rampages. Sometimes however, you get something truly special. Guns that are not just random, they are explomazing! What does the word explomazing mean you ask? We have no idea! Lets just assume that it means something is so awesome, that it constantly requires explosions in the background to be viewed perfectly.
These explomazing weapons are called Uniques, and they can be found across all weapon classes, Slugthrowers, Automatics, Explosives, and Chemicals. They are usually rather gimmicky, but can easily pull you through some of the toughest encounters you can face in Bloodcrusher II. To create these weapons, we have decided to liberally (thanks Clinton!) utilize our time vortex to pass notes through space and time. While our initial notes regarding 1997's winning lottery numbers seemed to constantly fail, we did come across some astounding games still being made in the future, much to our surprise, and with their permission we started incorporating their weapons into our game. Our time lawyer wanted me to point out that due to time travel we did all of this first, and thus the original games are, in fact, ripping us off.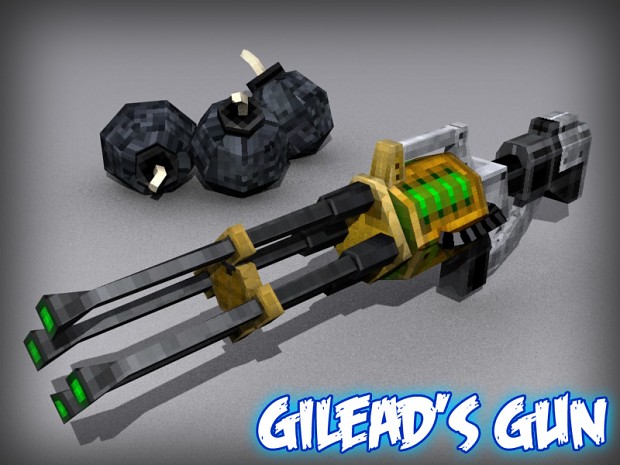 You have picked up

Gilead's

Crushgal's Gun

First up is Gilead's Gun from Paranautical Activity. This gun may be spawned by any enemy that can utilize the Machine Gun branch of the Automatic weapons. This weapon, of course, will not do him well after you've shot him in the face. While it takes a few seconds for the Gilead's Gun to spool up…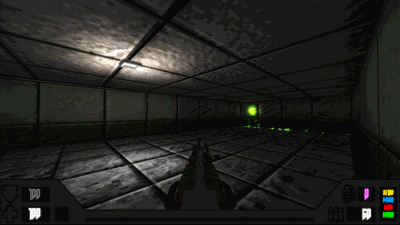 Pew Pew Pew Pew
When it finally does it fires strange orbs of what we presume is Gilead stuff! Its green and rather toxic! Keep in reach of small children, they'll think it is totally sweet! For ages 1-101. If you need your strange fix of whatever this is firing, be sure to get the game on your strange steam powered computers, or just check out the developer's chirper.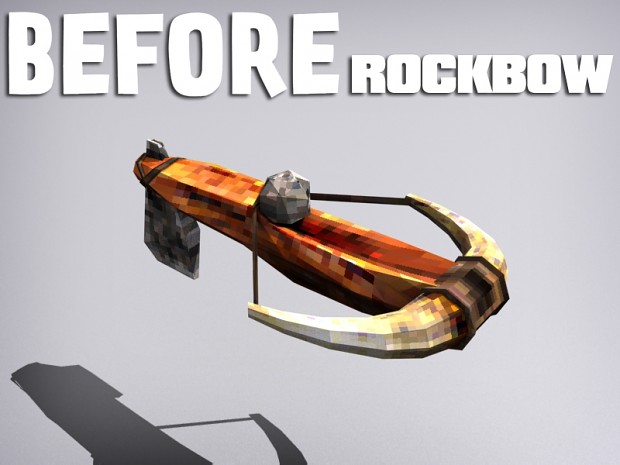 This rocks...
Next for this week is a, wait for it, a Rockbow! It is exactly what it sounds like! A crossbow that shoots rocks! This Rockbow in particular is based on the world of Before, a prehistoric game where you lead a ragtag group of individuals through the echelons of prehistoric society, ie; you hit some stuff with rocks. If that sounds like your kind of deal, check out the game's website, or its creator's chirper. Every shot from the Rockbow knocks enemies back a significant distance, making it great for juggling enemies or pushing away melee-focused baddies. And, of course, you can hit people with it.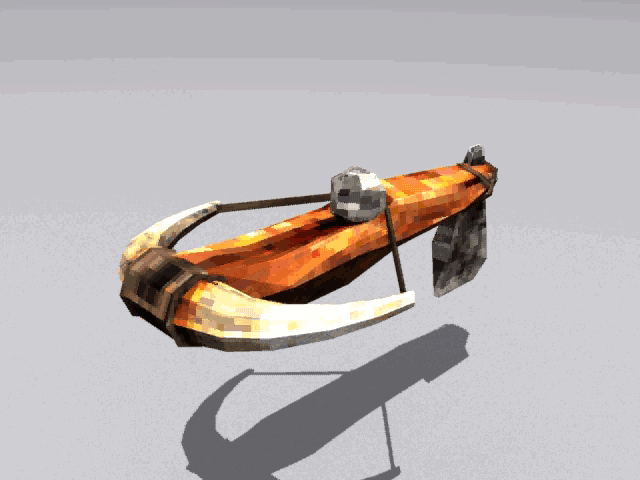 ...and if you shoot it right, heads roll!
Did you like these guns? That question is of course rhetorical, if you didn't like them there would be some rather serious problems in the future. What if we told you that you (yes you specifically) could make a sweet unique gun? We've set up a BBS to allow you to submit ideas directly to us! For our amazement or amusement depending on our mood! Go there! Make the past proud!