TODAY'S PROGRESS REPORT!
Video of the Multiplayer!
Today we tested some five-player Blockade Runner multiplayer while Zack played the server DJ monitoring for bugs! Below is a short video of the tests we did!
No Blobs for Characters
Yesterday Terah showed a character's face texture she was working on, and today we'll be talking about how Blockade Runner's characters will not be green blobs but actually fully modeled low-poly characters!
We'd discussed character design at length, and it all came down to how we'd like for Blockade Runner to become the game we thought would be possible after the N64. The N64 character models we all grew up with were decidedly low-poly and looked favorable considering the restrictions, and so with a similar poly budget we decided to embrace a bit of that nostalgic (yet HD) look!
Below are several mockups we made in March just to see whether or not said visuals would work in Blockade Runner, and we really loved the results!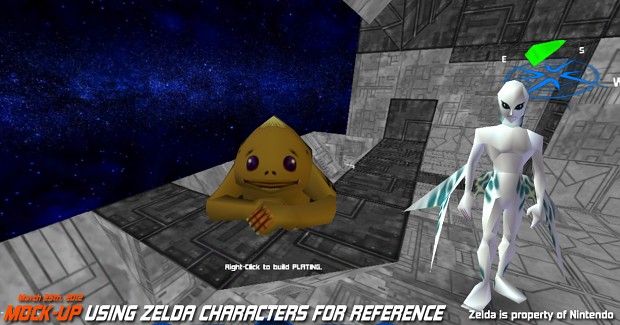 Character mockup using Zelda characters from March 25th, 2012
The essential concept is that human characters will be favoring realistic proportions (ala GoldenEye), the non-human aliens favoring more exaggerated proportions (ala Zelda), and all of the characters will have a slightly stylized texturemap (ala Team Fortress 2) to keep production moving along without spending too much time on the nitty-gritty details.
We need to simplify the textures and reduce the polygons for development reasons, but please keep in mind that "cartoony" is not the goal. We really liked how although they were simplified, both Zelda and GoldenEye's characters really stood out in our memory and we'd like to try and channel that for Blockade Runner.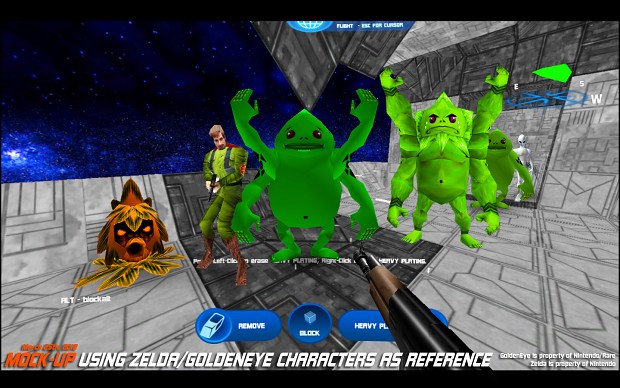 Character mockup using Zelda/GoldenEye characters from March 25th, 2012
Stuff+ Let's Play Video
In case you missed it, Stuff+ made a great Let's Play video! (and hopefully the start of a series as multiplayer unfolds!)
More Infos!
Today was a bit of a briefing character design. Time and organization permitting, tomorrow we'll go into either sonic screw drivers, and/or the mockup of the first person interface!
The sonic screwdrivers in particular we're hoping you'll be able to help us pick a different name for (likely a copyrighted name for Doctor Who?), but it'd be best to give you a briefing on what it'll be used for first!