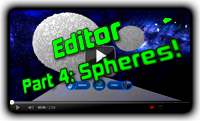 Ship builders rejoice... again! Part 4 of our editor videos reveals: The sphere shape!


The smoother counterpart to the rectangle shape, the sphere shape gives players a quick and easy way to get sleeker ship designs without having to sculpt it by hand with blocks. Check out the video below and see the sphere shape in action!






The sphere shape has much of the same options and abilities as the rectangle shape like, hollow, spherical placement, and its own custom options, such as hemispherical placement, and more.




That's it for Part 4, stay tuned for more information on the editor and its release as we progress!




- Micah




Think the sphere will help in your ship building? Make a comment below, or head over to the forum post!