The new Block Planets website is finally running and ready for your exploration!
You can for example find out the scientific explanation for the block-shaped planets and follow our blog to see our latest updates, as we are going to update the site as soon as there is something new to know about.You can also register to comment and participate in the conversation. Make sure you hit the facebook Like button on the top of the site ;). You can check it out by clicking the link bellow.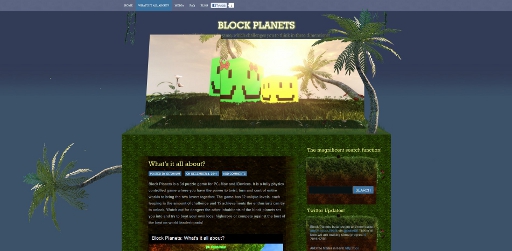 More updates! Block Planets now works with Xbox type game controllers too and the game has been beta tested (and fixed) two times, so we are about to start implementing the SteamWorks framework in the game! So soon there will be steam achievements, leaderboards and such, of course provided that Valve likes the game! Now would you, yes YOU there, want us to release the game on desura before steam, or would you like to wait that the game is powered by SteamWorks?
And remember to vote us in the second phase of Indie Game of The year 2011! We made it to the top 100 because of you. Thank you for that!