ntroducing BIONITE: Origins, a developing FPS/RTS Hybrid Hover-Tank Game that takes place on Venus, Mars, the Moon and Europa for the PC. You will explore the harshest and most exotic environments ever known to mankind from the diabolic world of Venus to the blood red planet of Mars. Returning to a spiritual feel similar to that of Battlezone, but reborn into the modern gaming world with far more to see and experience.
Piloting state-of-the-art hover war-machines powered by anti-gravity devices and jet propulsion, You will execute agile maneuvers and brave the most brutal topography and terrain.
Issuing fast paced tactical commands to A.I. wingmen will help you win your battles, but will it win you the war?

So what is this really about?
Well... we really aim to make it as we tell it. The game is being continually developed on UDK.
The Venus map alone we are dealing with is something around 3000 models. This map will also be
available in the beta. Regarding the schematics and overall gameplay it would be simpler to explain if you have played Battlezone from 1998. Which featured base building and also FPS gameplay elements collated into a space setting involving USA and Russia in a space race for dominance over the solar system. BIONITE: Origins aims to build on what Battlezone previously attempted and really broaden the horizons and reshape it in a setting fit in competance with games that are played today.
Of course that will involve playing FPS and having an element of RTS which warrants it the hybrid role of a real-time strategy shooter.
Concerning gameplay design, we are largely emphasizing vehicular combat alongside your standard FPS Infantry combat. But adopting an RTS approach where you have the best of both worlds if you are a C&C fan and like base building from the top. Yet also we are looking to introduce the command wheel seen before in tactical FPS shooters where you can issue commands without needing to zoom out.
The main thing to take from this as I say is; we acknowledge that there are a very diverse range of gamers who like to have their own unique style in playing - goes without saying. In developing a hybrid RTS/FPS we didn't want to develop a game offering too much emphasis on versatility in focusing on the bare minimum to satisfy criteria for a hybrid. We wanted to give players the option to play it their way by offering various avenues in diverse gameplay elements to allow the intellectual gamer to have it their way, whilst simultaneously another more casual and FPS player can have the same quality in a rich and fun gaming experience. Which is our reason for having both satellite view, and the command wheel allowing gamers playing in different views and styles all in the same instance.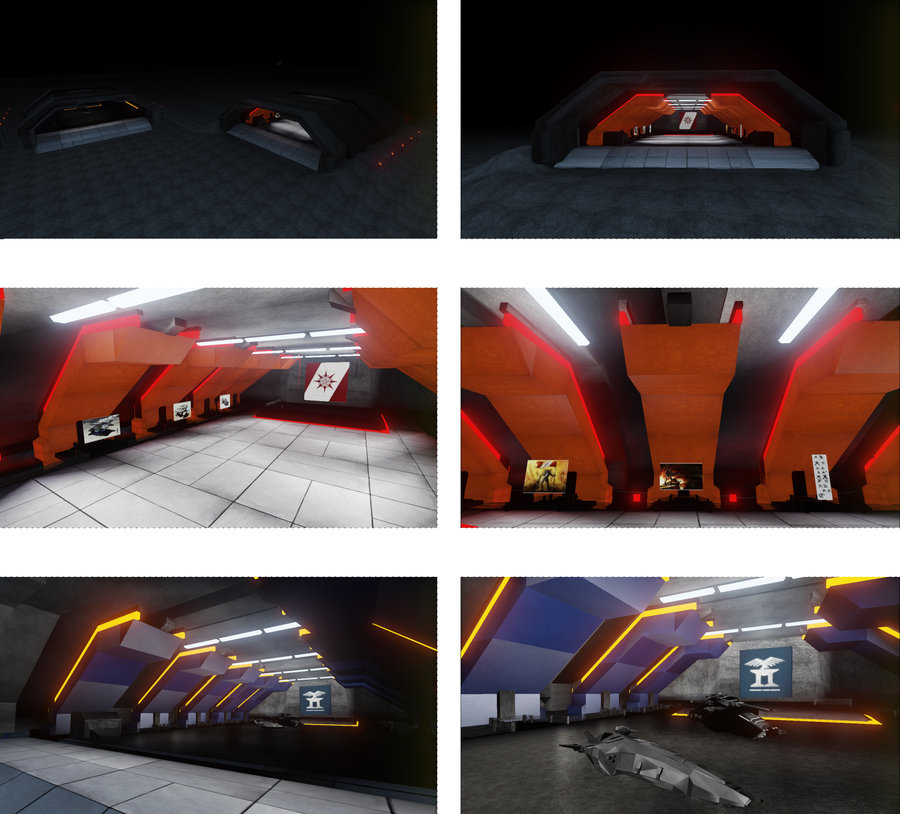 Above is detailing our progress at the latest. The hangar model may find its way into the beta among other planned suprises. Upon recent conversation with the Project Leader, the beta release date is drawing a lot closer than previously expected. Of course we are still working on issues such as vehicular movement; something that originally became a horrible venture in UDK, as making a hover tank was not as easy as expected, though neither is anything in UDK. However we have sorted out previous issues from past alphas such as vehicular flips and warped steering, as well as other horrific bugs. If you played our recent test build you'd know exactly what I mean, and luckily we have made some big jumps in solving such issues with the right people at the helm.
Upon quoting word for word from the Boss himself "I already have most of the content done, and its just a matter of getting it layed out on the map." So I assure you things are steadfast in progression.

Among other aspects in development, one is the story and lore of what BIONITE is and its origins. Hence as you guessed it, we named our project "BIONITE: Origins" not due to some obscure legitamate reason in attempts so to amuse our shortcomings! The origins referring briefly to what BIONITE is, revolves around the properties of a certain metal which happens to be present on Venus. In the common instance, there are usually 2 strands of BIONITE. The two are almost always found combined in a unified compound in which their atoms are covalently bonded together. These two strands have two separate characteristics and uses:
-1st strand is used for structural buildings allowing them to be flexible yet strong
-2nd strand is used for energy purposes acting as a type of fuel once processed.
The first 2 strands must go through an intensive refining process in order to make use of the strands' capabilities individually. The refining process is what allows BIONITE's capabilities to be put to good use. Without following through this process leaves BIONITE a useless metal.
However there is more...
A third strand does exist and this is extremely rare. It's chemical formulae is unknown yet we have discovered it contains biological characteristics; something never seen before in any element.
The third strand of BIONITE is still being researched throughout the course of the game and you will see how it's presence affects the course of the story throughout.
---
We will have more news updates coming up soon. For now check out our Facebook and Twitter and join hundreds of fans in the build up to BIONITE: Origins!