Welcome back to the Developer Blog for Battle Cry of Freedom!
This time we would like to talk to you a little about our new Music.

As many of you know, we included a number of Classical Music pieces in our previous game Napoleonic Wars. These have been playing and inspiring us in the background for more than 2 years now and we want to continue this tradition in Battle Cry of Freedom. But instead of adding Classical Music pieces, we decided that we would require something more fitting.
As such, we asked the 2nd South Carolina String Band for help. Some of you might already know them for the wonderful music! They create brilliant, period tunes on historically accurate instruments. Just like the soldiers used to do back in the 1860s!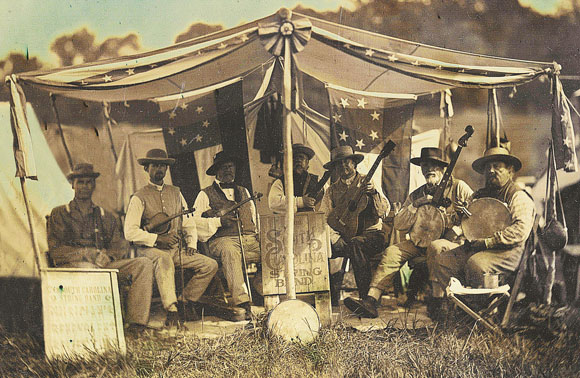 The 2nd South Carolina String Band was formed in August of 1989 by five riflemen of Co.I, 2nd SC Volunteer Infantry, a unit of Civil War reenactors that was very active during the five years of events celebrating the 125th Anniversary of the Civil War – and for many years to follow. After the battles, drills and inspections, the boys who had instruments played and sang around the campfire while members of the unit would often join in and sing along. This was the beginning of the 2nd South Carolina String Band.
Over the years they have worked with several filmmakers and documentarians, contributing period music to soundtracks for Ken Burns documentaries "Mark Twain", the Emmy nominated "JAZZ", and most recently, "The Roosevelts." In 2002, the band was selected by director Ron Maxwell to provide background instrumental music for the soundtrack as well as to give a rousing on-screen performance in the Warner Brothers film, "Gods & Generals".
Our game will include a number of wonderful tracks from this band. Here is a sample of two of their songs we will include in the game; Enjoy!
We feel that having high quality background music adds a lot to the finished game.
If you are wondering when the early Alpha will be available, it's getting closer and closer now. Whilst you enjoy some melodies we're working hard on getting it out to you guys.
Please consider reading more about the 2nd SC here.
Additionally, if you like their music, support them by buying their music here.
Thanks again for your patience and support!
Flying Squirrel Entertainment
To take part in the discussion of this Blog please go here.