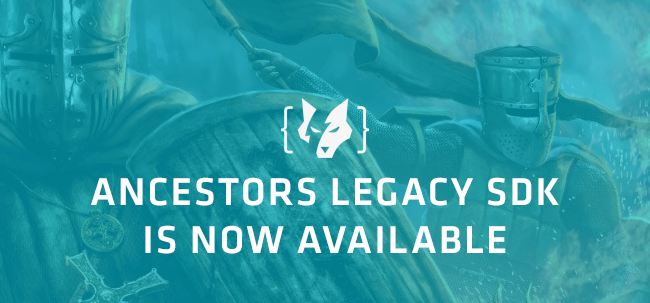 Developed with Overwolf, the released official SDK enables programmers and motivated players to conceptualize and develop overlay apps that will help both newcomers and advanced gamers to play and enjoy the game in new ways. These fresh tools can expand a player's capabilities and make their experience with Ancestors Legacy a more enjoyable one by introducing the required external tools and services right into the game.

Whether it is real-time event tracking, post-game analytics, self-coaching tools or social features, with Overwolf you can create it and make it a part of your Ancestors Legacy experience.

The new Ancestors Legacy official SDK is now available! Create your app

Go to Steam to find out more and start playing Ancestors Legacy: Store.steampowered.com

Overwolf's mission is improving competitive gaming experiences for gamers worldwide through useful, effective in-game apps and tools.

The Overwolf client enables fans and publishers to add functionality to existing games, and allows players to easily select, install and use hundreds of applications and in-game tools improving player communications, user interface, and most importantly - competitive performance and straight-up skills.

Working with developers, Overwolf enables new game features and overlays which 'should always have been there' to be implemented effectively and swiftly, bringing new value to millions of players. Overwolf's partners include OP.GG, NVIDIA, Cloud9, Team Liquid, CLG, Riot Games, Logitech and many others. For more information, visit Overwolf.

The media are welcome to request review keys for Ancestors Legacy through pr@1cpublishing.eu or Keymailer.
About the game

Take command of your army as you storm through medieval Europe in an extensive series of campaigns. Choosing one of the four available nations – Viking, Anglo-Saxon, German, Slav – you will be tasked with more than just conquering, raiding and pillaging enemy camps, villages and towns. Only by utilizing the full range of available tactical options, taking strategic advantage of the environment, and managing your temporary bases and settlements, will you emerge victorious.

Ancestors Legacy is a history-inspired real-time strategy game influenced by historical events in the Middle Ages. The game combines resource management and base building with large-scale, squad-based battles across vast battlefields, all rendered in great detail thanks to the Unreal Engine 4 tech. Experience medieval bloodshed like never before, thanks to the cinematic action camera that puts you right in the middle of the battle at the press of a button.


Features
4 playable nations in an extensive single player campaign inspired by historical events
Various modes of intense multiplayer battles
Advanced tactical options combining the use of terrain, experience and morale
Cinematic battle camera view puts you right in the center of the action
Outstanding visual fidelity powered by Unreal Engine 4
Streamlined resource management and village construction
Game Information

Platforms: PC Windows, Xbox One
Release date: 22 May 2018 (PC), Q1 2019 (XB1)
Publisher: 1C Company
Developer: Destructive Creations
Links

Latest trailer: Youtu.be
Steam Store Page: Store.steampowered.com
Press kit with new assets: Bit.ly
Official website: www.ancestors-legacy.com
Latest releases

Latest releases 1C has recently released HAIMRIK, ANCESTORS LEGACY, QUANTUM REPLICA, THE WATCHMAKER, REALPOLITIKS: NEW POWER, REALPOLITIKS, FALL OF LIGHT.
Request Steam keys for 1C games at www.keymailer.co or contact us at pr@1cpublishing.eu
Get 1C games at the www.1cshop.eu
About 1C:

Founded in 1991, 1C is a global games publisher with offices located in Europe and Russia. The company releases PC games through its global network of independent distribution partners, digitally and at retail.
www.1cpublishing.com | 1C Showreel: Youtu.be
About Destructive Creations:

Destructive Creations is a very experienced development team, comprised of highly-skilled game industry veterans. Many years of common creative work has led to a super smooth workflow and team stability. Our first production under the Destructive Creations brand was Hatred, which was released on June 1st, 2015. Our main goal has always been to create original, uncompromising games. The example of Hatredshows that we can handle controversy and unusual solutions perfectly.
www.destructivecreations.pl | Facebook