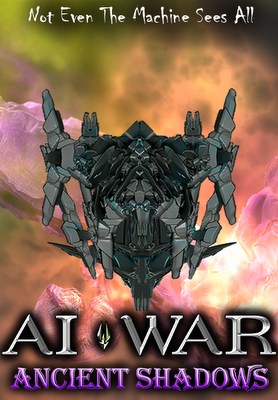 Version 5.052 begins the public beta for Ancient Shadows, our newest expansion to AI War.
We waited longer than usual to start the preorders and public beta for Ancient Shadows because we wanted to get the anchor feature to a playable state, and it's pretty complex under-the-hood.
So, what's the anchor feature? Champions! A bit of background: neither Chris nor I have been all that happy with the way RTS games usually do scripted campaigns or hero units. The concepts are quite compelling, however, so it's a matter of finding a different way. In the Light of the Spire we did the Fallen Spire stuff as our take on dropping a scripted campaign into our emergent-campaign world of AIW. It was a pretty huge hit. Well, in Ancient Shadows we're doing Champions as our take on bringing hero units into AIW.
Basically, with the Ancient Shadows expansion, you can now set a player to the "Champion" role and instead of a home command station and all the usual stuff a player starts with they get a single modular ship. But what a ship. At the beginning it's basically a super-starship that's pretty powerful but nothing world-shattering. But it can gain experience, and with experience it can upgrade modules.
More importantly, the champions can travel to new parts of the galaxy that no normal ship can get to, and interact with the splinter factions of Humans, Zenith, Neinzul, and Spire that are found there. Successfully helping a splinter faction can (among other rewards) unlock whole new lines of modules and even new and bigger hulls that your champion can switch to. For the lore-inclined among you, these "offroad" scenarios also reveal more of the backstory through journal entries.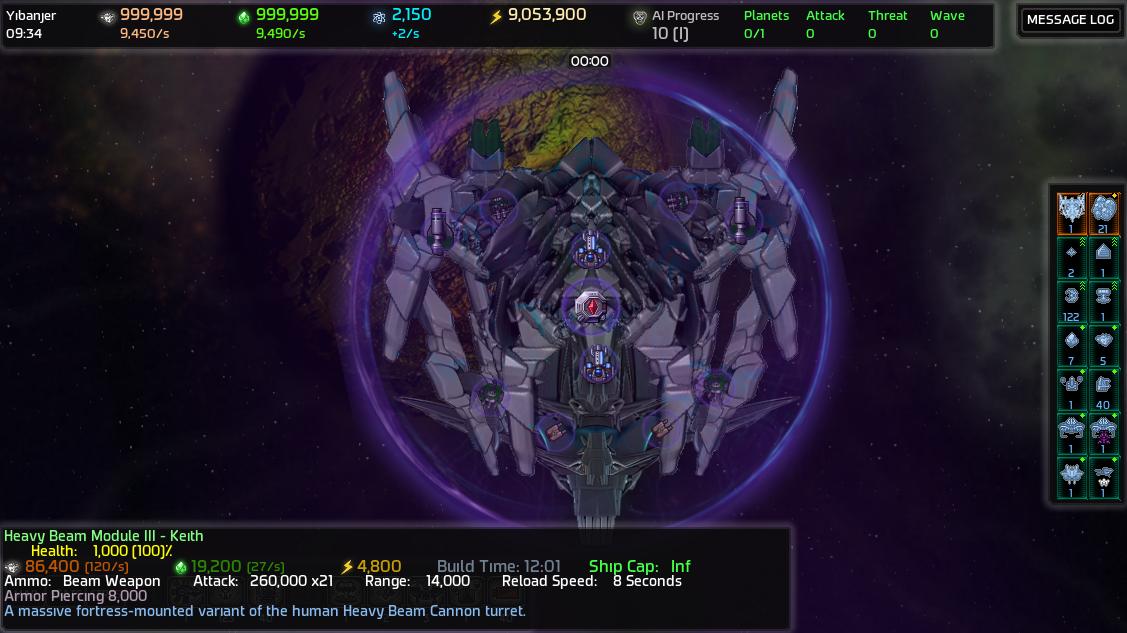 There's still quite a lot more variety planned for the champions (more module lines, more champion hulls, more splinter factions, etc), and plenty more in other expansion features:
* Modular fortresses! (the Human-tech variant is added in this update; Zenith, Neinzul, and Spire variants to come, probably via reward from an offroad scenario)
* 9 new bonus ship classes (coming soon, not implemented yet).
* 3 core AI guard posts and one new minor faction (coming soon, not implemented yet).
* New AI types (coming soon, not implemented yet).
* New Map types (coming soon, not implemented yet).
* A large amount of new music (to be released when the expansion fully launches, you'll need to download the final installer to get the music, it won't be delivered via update).
All that's still in the works, of course, but we wanted to get the public beta going so interested players could start experimenting with the new toys :)
Once you've updated to 5.052 (or whatever the latest beta version is when you read this) you can use the Ancient Shadows installer from here and demo it in trial mode or go ahead and pick up a license key here.
The expansion is priced at $4.99, but you can pick it up for $3.99 (20% off) during the preorder period!