Gears for Breakfast is pleased to announce a free update to A Hat in Time: The Modding Update!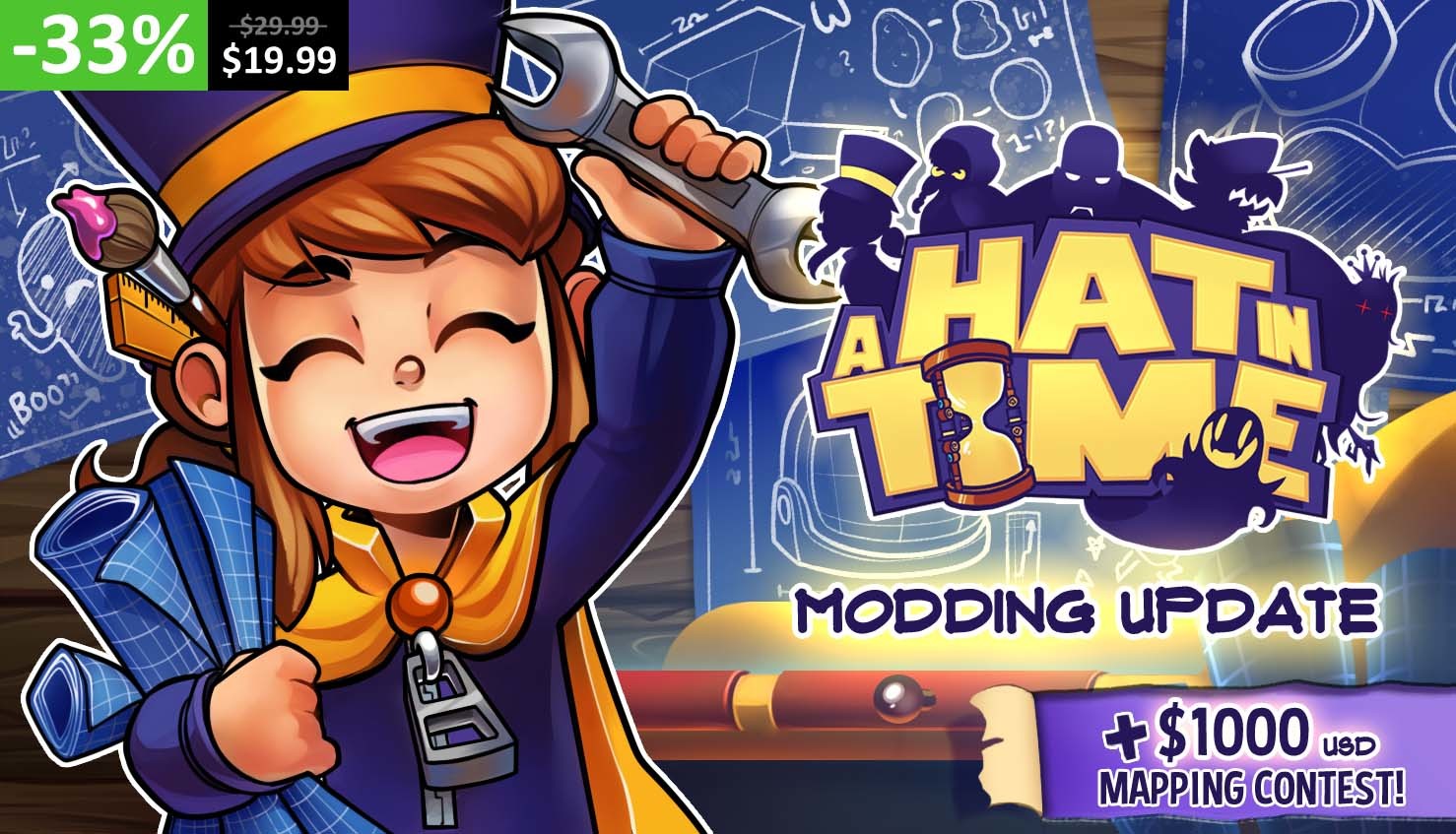 We love mods. Ever since releasing A Hat in Time, we've seen our modding community achieve fantastic feats, such as all-new chapters, hats, badges, and more. To celebrate, we're releasing our first major Windows A Hat in Time update: The Modding Update. In addition, A Hat in Time is going on sale for 24 hours at -33% off on Steam!

This update is available RIGHT NOW on Steam and later next week on GoG.

This update brings our mod support out of beta, and natively integrates mods into the game loop: By playing mods and completing mod levels, you receive Rift Tokens which can be used to purchase new hat flairs, remixes, and more! In addition, we've also added new flairs to the game.
New Flairs:

We're also happy to announce that we're officially including 2 community-made A Hat in Time mods into the main game:
Dye-able Main Game Hats by That Girl
German Fan-Translation by Lucas Dyziek, Noah 'NoNiC' Horten, Miguel Johnen, Sebastian Wallus, Alexander 'Da Wood' Schlembach, Niko 'TiredRandomWolf' Fox, Litronom and ScreamingCat1789
The creators of these mods have been compensated and credited for their fantastic work! We hope to include more amazing mods going forward.
New Achievements:

Changelog:
Modding support is now available to everyone, out of beta
Added German language support
Added Japanese language support
All-new mod menu
Rift Tokens can now be obtained from mod levels
Added 3 new achievements
Added 4 new flairs
The majority of hats are now dye-able
Pause menu has been redesigned
Settings menu now has an option to turn off mods
Stars now show up on your save file when certain conditions are met (number of stars depend on number of conditions)
Here's some mods to get you started: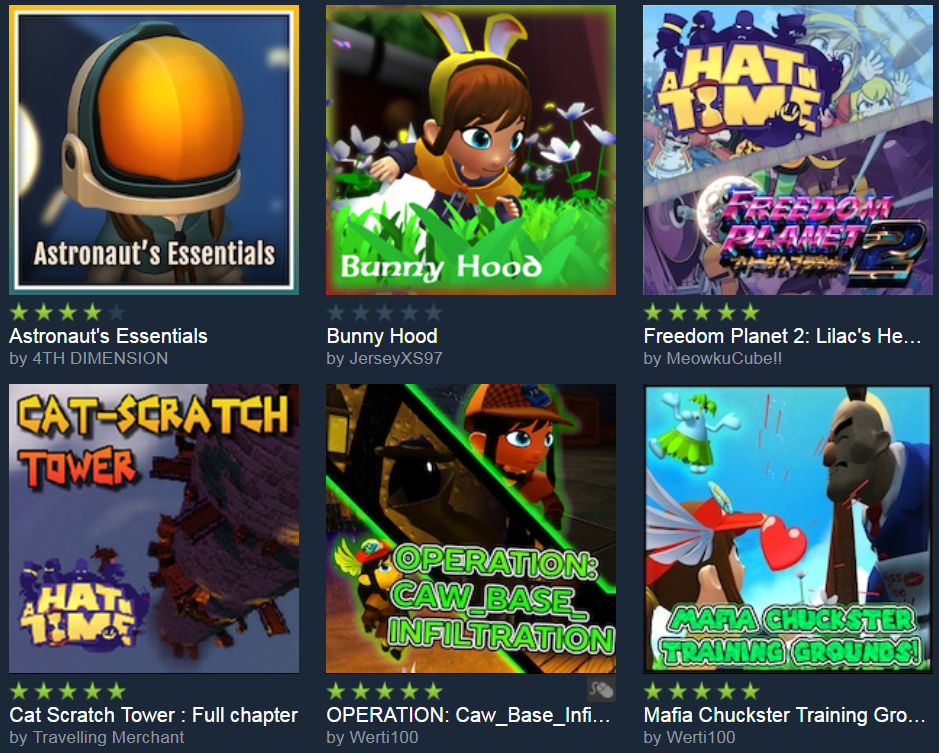 Gameplay mods can be accessed at any time. To access map mods, visit the Mafia in the mailroom
$1,000 USD Prize Pool 2018 Purple Time Rift Mapping Contest
Gears for Breakfast is proud to announce our first mapping contest aiming to deliver brand new, high quality maps to A Hat in Time. This is a chance for mappers and modders to show off what they can make!
How it works
Individuals, or a team of individuals, will have 45 days (1.5 month) from today until April 27th, 2018 to create, test and upload their Purple Time Rift to the Steam Workshop with the tag "2018 Purple Time Rift Mapping Contest" (the mod manager will allow you to set this tag).

After the deadline date, the top 20 highest voted contest entries will be reviewed by Gears for Breakfast staff, and the top 3 maps splitting the cash price. If the maps are seen as suitable for A Hat in Time, we'll also contact the makers about potentially including them in A Hat in Time for everyone to play!

1st place: $500 USD
2nd place: $350 USD
3rd place: $150 USD
Rules
The contest is open to anyone interested in modding and level design. Submissions will be accepted until MIDNIGHT (UTC) on April 27th, 2018.

The submitted maps should be original works, developed with this contest in mind. Using existing ideas, concepts or assets is allowed, however the final submission should be considered a new release. The map can not depend on other mods and should be fully playable in isolation.

Maps can be of any size or theme, however they should follow the standards for Purple Time Rifts as set in A Hat in Time. Factors such as gameplay, polish and enjoyment will be weighted heavily in judging.
What's a Purple Time Rift?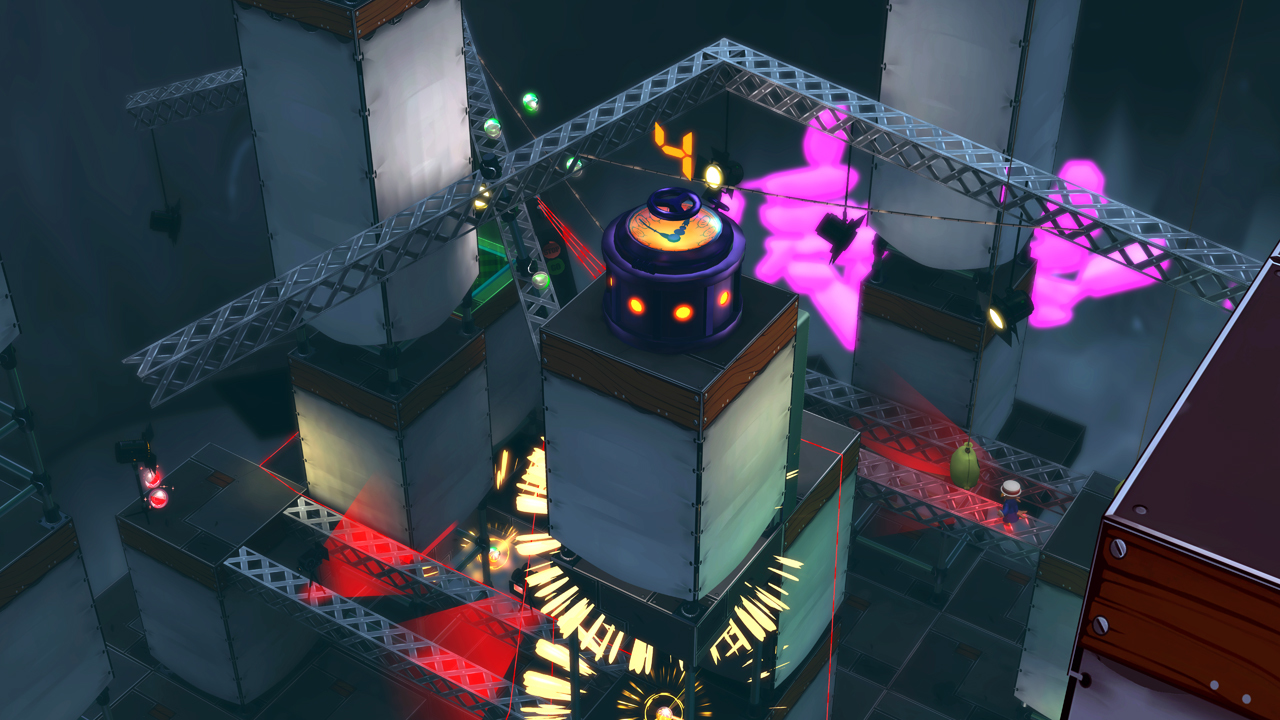 Purple Time Rifts are a layered challenge where the player has to collect a select number of "Rift Pons" to advance to the next floor. At the bottom is a Time Piece. Players are encouraged to collect as many Rift Pons as possible, as it allows them to potentially skip later, more difficult Rift Pons, or skip a floor entirely. If the player dies, they start all over.
How to create a map and enter?
To enter, simply upload a map to the Steam Workshop with the tag "2018 Purple Time Rift Mapping Contest". For a full guide on how to get started with creating maps and submitting your map to the contest, click here.

Additionally, we have a fantastic modding community that can supply tips, tricks, assistance and more! You can find our Discord A Hat in Time modding & mapping community here.

Thank you so much for your support!