Player Trading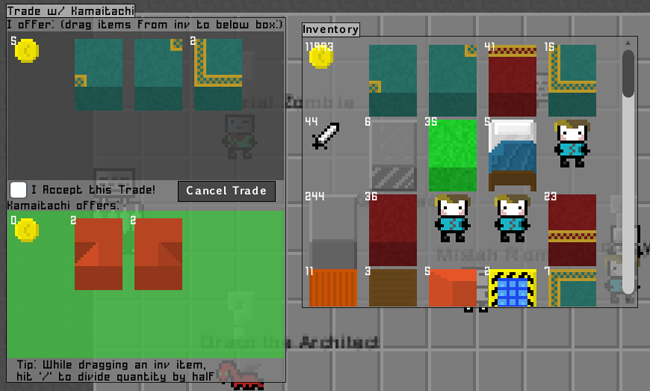 Player Trading was one of the top suggestions in the suggestion box, and is now a feature in-game! Trade your extra items with other players.
Expansion
Over the past two months, the game has expanded dramatically. Check out this before & after of the capital city Origin:
Two months ago:
Today:
Wow!
Kongregate Integration

I am pleased to announce that 8BitMMO is now playable on popular online gaming service Kongregate! Playing on Kongregate gives you these features:
High Score Tables - Compete to be #1 in either LawyerCats Killed or Blocks Placed! Who will reign supreme?!
One Click Game Login - After you've made your account, you'll be able to log back into it via your Kongegate account with one click on the game page.
Easier to Support Development - Many players have wanted to support development financially, but don't have a credit card. If you want to support the game (still optional!), you are able to do so with many mechanisms, including mobile phone payment and GameStop's gift cards.
I am very excited for 8BitMMO to join the high quality games at Kongregate, and I look forward to seeing some healthy competition on the high score tables!
Choose Player Color
You can now choose a color for your player. Non-human colors will also be supported soon
April Fools
For April Fools, everyone got to play as LawyerCats ;)
Quest Reminder Window
The Quest Reminder Window shows players what their current quests are. Hopefully this will help new players find their way.
Play it Now
Well, that's it for this month (whew). Until the next update... click here play the game!