Our Unity pros over at Defective Studios are seismically progressing with our Unity Ugly Baby prototype. In this first experiment, we've gutted and borrowed parts of Awesome (which is also written in Unity), leading to this seizure-inducing video:
]This is remarkable because it's Ugly Baby running in a COMPLETELY NEW 3D engine! Now that we can connect visuals with the music, our next task is to tie Python into a shinier Unity Baby, which analyzes the music and handles all the random generated craziness that builds the cities.
Aside from Unity's potential to give us shiny new graphics effects, Unity will help us make the game more easily. Our art production pipeline used to have five steps: Maya -> FBX export -> Unwrap 3D -> MED -> Ugly Baby. Now it will only have two: Maya -> Ugly Baby. Making this less tedious gives us the chance to add more into the actual game.
Speaking of adding things, we have more notes in the Unity Ugly Baby Public Google Doc.
There's a description of a "vertical sliver" of what the game experience will be. Those careful readers will notice we've added something oft-requested by our fans: a file browser for song selection. BAM!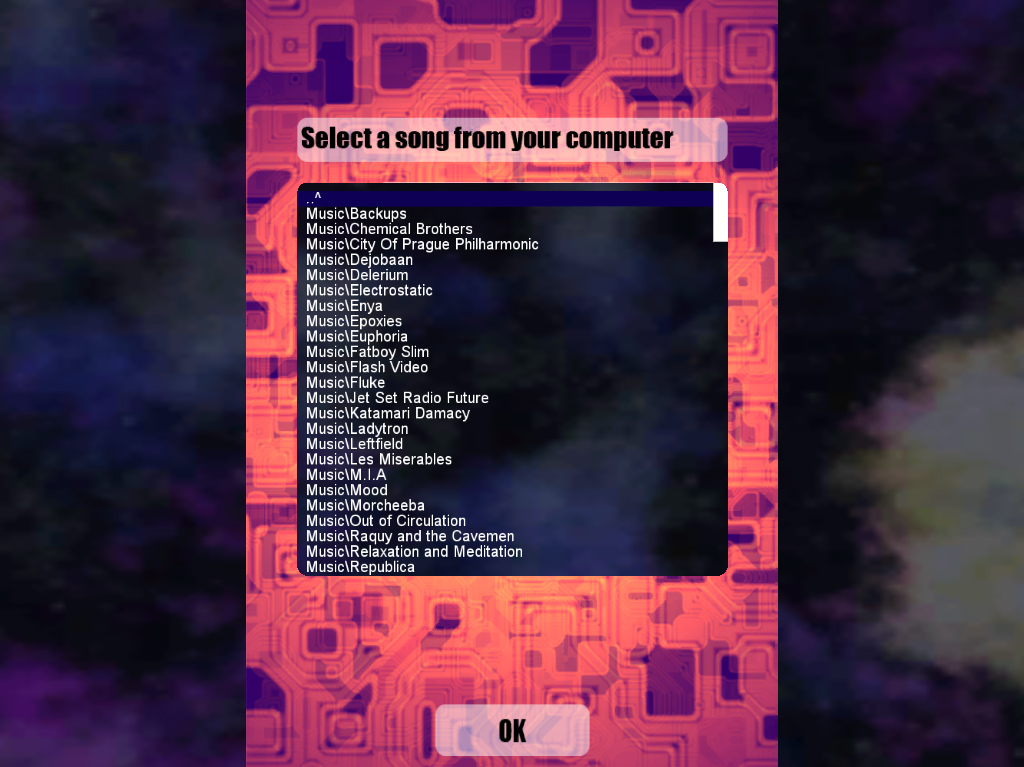 The next Ugly Baby experiment we'll report on will be a test build for ourselves that essentially takes Aaaaa! for the Awesome and adds music response to it. We'll create a simple city that gets denser or sparser with the music. (Nota bene, since folks have asked: When this Ugly Baby becomes a completed "thing," it will roll out free to whomever owns Ugly Baby already.)