Dejobaan's preparing to meet its friends and to make a few thousand new ones at PAX East 2012. There, we hope to show off F=ma (now available for iOS), along with the Drunken Robot Pornography and Ugly Baby on Unity prototypes April 6 -8 at the Boston Convention Center, booth #661.
Dejobaan's no noob when it comes to PAX East. We had two stations at the inaugural event in 2010, thanks to MIT GAMBIT and the Boston Indie Showcase. We've grown since then, and now have our very own booth. Understanding the strength in indie numbers, we joined more than a dozen other developers to create the Indie MegaBooth, making it easier than ever for indie game fans and press to find us all. (We'll have lots to reveal about the MegaBooth in the coming weeks, too.)
Fourteen developers make up the proper Indie MegaBooth, which is spread among three large areas adjacent to the Boston Indie Showcase. PAX East has uploaded an official map of the expo floor. Take a moment to find Dejobaan's booth, #661.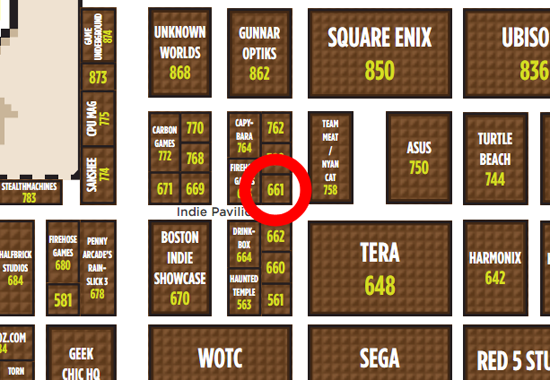 Make sure you stop by, as most of the extended Dejobaan family will be there: Alicia (mistress voiceover of ceremonies), Elliot, Ichiro, John, Leo, and potentially others!
When Ichiro isn't at the PAX East booth talking to fans and press individually, he'll be addressing two rooms full of gamers. He'll be speaking in the "Indie Game Development: A Day in the Life - Part II" lecture in the Cat Theatre on Saturday from 12:00pm to 1:00pm with Ska Studios and Arcen Games. His second talk will be "The Indie Rant: Indie Developers Gone Wild" in the Naga Theatre on Sunday from 4:00pm to 5:00pm with a slew of indies, local and international!
While Ichiro's appearances at those lectures are finalized, our game line-up and physical booth are still in development. We hope you'll join in cheering on the team on Twitter and Facebook, as we enter these final two weeks. Our resident drunken robots can turn all that positive reinforcement into smutty developmental energy!