A WORD OF ADVICE: Please see posts below too for more updated informations. This happened when I tried to modify this very post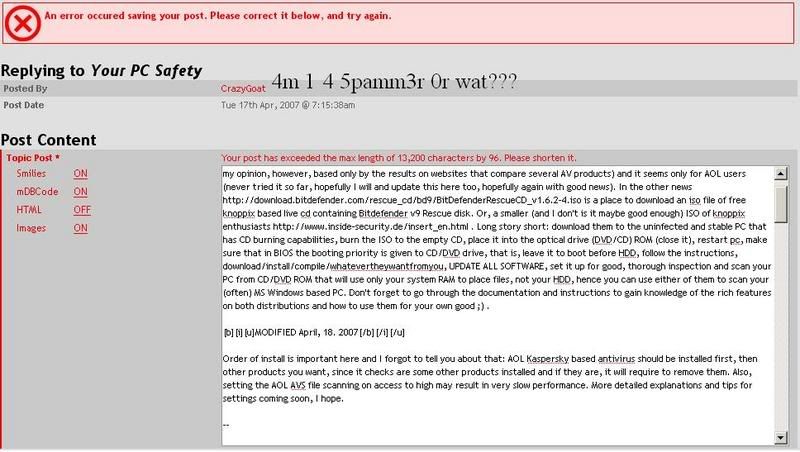 MODIFIED April, 18. 2007
Order of install is important here and I forgot to tell you about that: AOL Kaspersky based antivirus should be installed first, then other products you want, since it checks are some other products installed and if they are, it will require to remove them. Also, setting the AOL AVS file scanning on access to high may result in very slow performance. More detailed explanations and tips for settings coming soon, I hope.
--
Hello to all and I hope that you will, by reading this, find some useful information about PC safety. Please note this here is my opinion only, not moddb requirement for anyone here, therefore, these are more just like tips of some sort from the somewhat average user addressing to the general internet users population that also visits moddb among other websites and potentially bring troubles here with their unsecured PCs. I asked the management (admin/mods) here to sticky this if anyone here find it useful and make it open for others to post in here and I use this opportunity to thank them. Also I would like to apologize for my not-so-good english and because I'm going to state the obvious things often, since this is made for those that are not quite aware of the security on the internet and don't use any system protection; therefore I hope I'll remain understandable to the community and others who browse. My intentions are to make this topic about two major things: one is your Windows based PC security and the other is maintenance of your Windows based PC. You can also search over the internet for many other guides and tips about this kind of things, like security and maintenance, but I already know about many of those tips&tricks, so I'm also using my, hopefully, enough long experience as a reference, since my propositions of the products to be installed on your PC are verified either on my own PC, or on the PC's of my friends. However, this is just the short version about the basics of the PC safety; please try to find some more detailed explanations elsewhere if you find something here hard to understand, or just post a question here then. The combination of the software I'm going to give here shouldn't cause system instability or some other incompatibility, since there wasn't any until the present day, neither had I heard of any on the internet. So here it goes: let's make some things straight at the beginning:
1)There is not 100% security on the internet (as in real life, for that matter

), even with the commercial products. While we are (for now) at it, I would like to point out that currently the top 3 commercial products (check for some independent rating of computer protection products) would be NOD32 Eset.com, Kaspersky Kaspersky.com and, as far as I can think of – therefore, this third one is the particularly personally subjective opinion – would be Bitdefender Bitdefender.com. Also I want to recommend it to you to always strive for the prevention, and one of those would be Prevex1 Prevx.com and if you're going to buy a product, see it is all inclusive, e.g. "internet security" within the product name, that usually means it has firewall, antivirus, antispyware, rootkit detection, privacy, script, dial and whatsoever control and similar in itself as one product. As for the rest, I'll try to speak only about FREE products, which will mean we will have to use a combination of several free products. In some rare occasions, those products can conflict each other, therefore causing system instability, but in order to achieve at least some degree of the computer security offered by all-in-one commercial computer security product, we'll have to take that chance).
2)Security lies in the habits of the user: user must update regularly protection products and/or Windows, scans PC at least once a week for malware infections, avoid visiting web-sites that are generally considered as distributors of malware (the term malware is a wide one, and I'll use it here for all kind of malicious activities against you and on your PC including, but not limited to viruses, trojans/worms, rootkits, hacker intrusion, endangering privacy, etc.). No updating = greater risk.
3)Try to always check what is on your PC and what is currently running ( Microsoft.com with the download link at the bottom of the webpage Download.sysinternals.com for more viewable processes; for hidden, like rootkits, use Microsoft.com and the download link is at the bottom of the webpage Download.sysinternals.com also note that some computer security products use rootkit like technology to protect themselves in order to work properly, Kaspersky for example does that) and what are you downloading and installing. For that matter, a lot of computer security providers like to say they are the best ones (figures

). Also, a lot of commercial computer security providers are saying that their product has successfully completed certain tests and gained certain certificates. The top three websites, where you could check out is it a computer security product that you want on your PC really that good, would be these:
Virusbtn.com
Icsalabs.com
Westcoastlabs.org
4)Most of the files can be obtained from Filehippo.com including some Windows files (like the updated DirectX 9.0c redistributable). However, for system maintenance, Softpedia.com would be the place to download a program for removing leftovers from the uninstalled drivers (refer to readme of the program after you install it). You can also go to the Download.com for some more free or paid programs and their reviews.
Now to the point which is, in my opinion, the best possible combination of computer security products. But again, some tips: don't use Microsoft Internet Explorer, use Firefox or Opera instead ( Mozilla.com for Firefox internet browser and Opera.com for Opera internet browser). In any case, whatever internet browser you use, you should also pay a visit to the Siteadvisor.com, download and install it and then relay on in it to guide you through the google search results by showing you right beside the results which websites are safe, and which are not (although don't believe it completely, some sites marked red/dangerous aren't really that, while on the other hands I had some issues with the green/OK sites, but it is still better that than browsing and clicking on any google/yahoo/ask search result which may bring harm to your PC). I'll will not discuss here about Windows programs like Live Care, or Windows Defender and especially not about Windows integrated firewall (it is not good almost at all) that shows up with the Service Pack 2 installed on you Windows XP installation (it is recommended to install Service Pack 2 for your Windows XP and then after that download and install in the required order updates for Service Pack 2 from Microsoft or via integrated Windows update. You can check is it Service Pack 2 installed in System Properties window and to go there, right click my computer icon and left click Properties). Someone might say that using Macintosh or Linux distribution based PC is much safer. They are partially right since there are not many malware designed for those OS and there is free protection also for those systems ( Avast.com and Free.grisoft.com ). However, they are just less attacked and less vulnerable than Windows XP OS (OS means operative system, for those that don't know, I apologize to those who know, but just like I wrote earlier, I'm trying to make this for general internet user population); that doesn't mean they are invulnerable. Also note that malware computer infection doesn't necessary come from the internet always, it can reach you via infected media too (floppy, USB flash, CD/DVD and similar, if they are infected with some malware at the first place of course). So, the Trinity of Security would be:
A)For file scanning and overall computer safety download and install FREE AOL Active Virus Shield Activevirusshield.com that is using famous Kaspersky antivirus engine. Note that some of the features here are disabled compared to the commercial full product from Kaspersky. Don't forget to check your e-mail you give them before download; it contains your activation key for the AOL AVS. Please don't forget to update it regularly.
B)For web protection/internet safety, download and install FREE avast! (I'll try to explain later how to disable it's file scanning, also know as Standard resident protection, leaving it from interfering with AOS AVS). Don't forget to update it too regularly and register it for free on their website. You have for that, as far as I can remember, 60 days. Avast.com
C)As for application control, privacy protection, defense from hacker, we'll need Sunbelt-software.com as a firewall with integrated application control and privacy protection.
D)Additional software: Lavasoftusa.com is for scanning your PC against ads malware that may infect your PC. Ccleaner.com is a program that helps you clear internet cache, temporary files and recently viewed and applications that you had run and can be misused by malware attackers. It will also free you some space from things you don't need any more on your PC.
I will not explain here all of them specifically, refer to their readme files and website community or FAQs. If you can't handle your problems that way, then post them here, I (or someone else here who know how to help) will try to give you some advices.
STILL TO DO: To describe you some of the advanced options of some of the programs and how to configure them. Generally, it is wise to set everything to high, BUT BE ADVISED: that can lead to poor performance of the overall system, not only in games. Much of the products have somewhere an option to exclude applications and/or folders from scanning and checking, thus greatly leaving space for that particular application you chose to be excluded in order to run normally. Note to those with (s)lower system that maybe (although not likely) with 3 or more computer security programs running on you PC may slow down PC performance even more, although not necessarily. That is why I'll try to additionally post advanced options how to disable avast! file scanning and leave that to AOL Kaspersky based antivirus and how to respond to Kerio firewall when asks about certain application asking to connect to the internet (generally, the rule here is to only allow to those program you know are legit, that you installed them and that you know they require internet connection, and vice versa, to deny access to the internet to those programs you don't know are they legit and why they even require internet connection).
DISCLAMER: Under any circumstance I can not be held responsible for any unwanted effect caused by you following these instructions. Please be advised that anything you do on your PC is your responsibility. The names of the computer security products and their owners/companies are their respective intellectual property, not mine.
So, as my sig says…
Edited by (in order): CrazyGoat, CrazyGoat, CrazyGoat, CrazyGoat, CrazyGoat, CrazyGoat, CrazyGoat, CrazyGoat
--
Really good luck in everything that is really good.
If you lack experience, for your own sake and for the well being of the others on the internet, including the fine folks here at the ModDB and AddonDB and anywhere else please CLICK HERE. Thank you
...and also don't forget to visit this website too... unless you are already there, then don't forget to come back here