First of all two things: first my english is quite bad so if i write something wrong don't be surprise. And secondly i know nothing about mod creation, i dont know how to write code or this kind of stuff. I could try to learn but since im in college i dont have too much free time. Keep in mind that this topic is just about an idea and feel free to take it or just parts of it for your own creations. Im not asking for a modder im just sharing an idea.
So let's begin! This mod takes place in 1096 in the world of calradia (so after bannerlord and before warband) The kerghits have overthrown the khuzait dynasty, this civil war has slowing the advance of these eastern nomadic tribes in calradia and has given the time for the empire to reunify (cus in bannerlord the empire is in a massive civil war) The Nordic invaders have made a deal with the vlandians to found their own kingdom after they abandoned their old gods. The sturgians have been pushed back in the east and are now called "vareg" (ancestors of the vaegirs from warband). Not really much has changed for the batanians since bannerlord events (at least they are still alive lol). The vlandians had a huge succesion problem: Derthert (the vlandian king of bannerlord) had two kids: Gobert his frst born male heir should have taken the throne when his father died but he's known throught all vlandia for being a sadistic and a coward. So when Derthert passed away, Ygritte his daughter and second child claimed the throne. And so the two childs of Derthert got into a really ruth civil war betwen 1073 and 1093. After 20 years of war and thousens of death they both signed the treaty of Sunor (somekind of white peace) cutting the vlandian territoy in two parts: Ygritte got the northen part (future swadian kingdom) known as the "red vlandians" faction and Gobert got the southern part (future Rhodok republic) known as the "black vlandians". In the northern part of the map is Jumne, the home of the nords. The Jumne clans are feeling abandonned by their brothers who left the old gods and founded their own kingdom. And so the true north (jumne) is preparing for pillage and war ! And the last faction: the aserai: they are in their "golden age". The civil war of the empire has allowed them to expend a lot in a very short amount of time. That brings us to the start of the mod: In his slow agony, the calradian empire launches a deseperate messege in order to get help against the aserai (like the byzantines did irl) and so the batanians the 2 vlandias and the nords answer the call!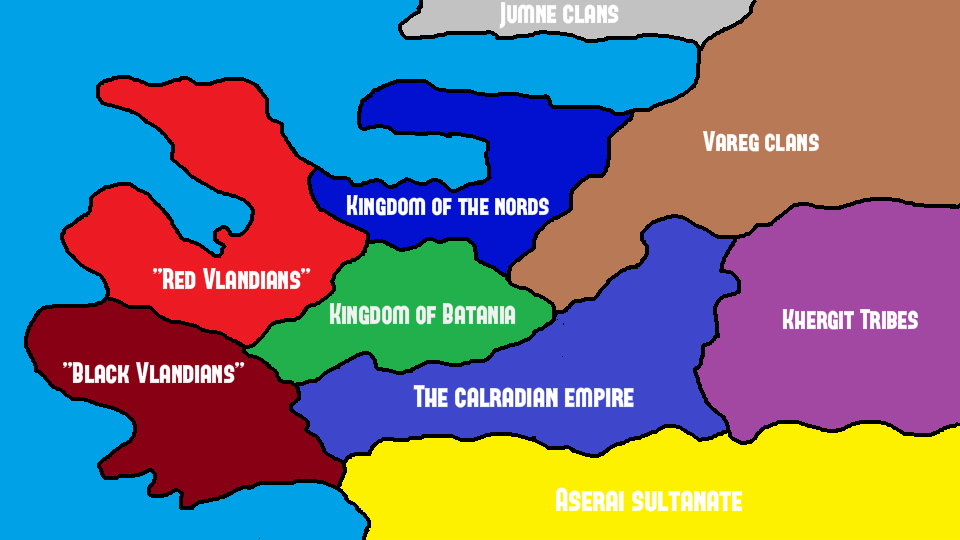 This crappy picture is supposed to be the native map expanded a little bit to the east and with the jumne clans territory added north.
So that was a bit of lore i created to make things look more coherent. So as you can read and see there's actually 9 factions ! And there's one you cant see its an invading one. As i said a few calradian kingdoms have aswered the empire call. Like in real life (the 1st crusade) these kingdoms wont go directly at war with the aserai but a few of their nobles will form the invading faction called "the crusaders states" (who will be under "non agression treaty" with all the kingdoms who support the crusade for a limited amount of time and at war with the aserai (but not permanant war they can make peace)). The invasion will start day 1. So thats it for the basic concept of the mod.
Other ideas:
- Add mercenarys companies wandering around (not too much of them) who will attack caravans, and other bandits. But you can hire them (will cost quite a lot) and ask them to follow you for a certain amount of time (has an western and eastern type of company).
- Naval stuff (ships, pirates ect...)
- Cant approch a castle or a city unless you besige it: lets be honest for one second here: in warband theres forts wich guard an acces point (a mountain pass for exemple) aaaaaand your army can go throught it and penetrate the ennemy territory whitout problems.
- Add pilgrims: quite big "bandits" party (around 80-120 men) in permanant war with the aserai. Neutral to the player at the start of the game. These parties would be composed of a few farmer, pesant woman, beggars, battle priests/bishops, 40% of pilgrims, and rarely lead by some wandering knights (see bellow in troop trees).
- Add bandits heroes (one for each type of bandit) who can respawn a certain time after getting destroyed.
- Add nomadic tribes in the east (basicly big steppe bandits parties but with better units).
- Add civil wars (i dont know if thats makeble) if many lords are unhappy they rebel against their ruler by creating a new faction, if the player choose to help a claimant this claimant will become the ruler of the rebel faction (really not sure about that but would be cool). To balance that the relation between lords and their ruler will slightly icrease from time to time if they own a fief.
- Add more companions
- Add a lot of new stuff (for every one basicly)
- Add "tavern wenches"

with a random event if you... hum you know what i mean
- Add random events (finding a gold bag, being challenge by a swordman ect...)
- Wounds system that can be disabled and who will give you a less 1 in int/char/str/agi if not healed by apoticars. These apoticars will also sell "love filters" theses filters will most of the time increase your relation with a lady but it can also have a bad effect. And they will also sell potions (cost a lot) who may increase your stats.
- Noble system: in warband, after a bunch of battles a simple farmer can become a knight, this, in real life, would be almost impossible, so in this mod theres two troop tree per kingdom: one that you can find in villages (the lower class people) and one in castles (the nobles) wich can be recruited only if youre a part of the faction and with more than 200 renom.
- Add an option to recruit beggars in town for 5 denars each.
I also have a lot of ideas for the troop trees ill make a schema for them later.

Thank you for reading and tell me what you think about it !