Why Should I Play
Research and Development
Half-Life 2 set the bar for physics based puzzles and few have come close to taking the crown, until now that is. Research and Development is all about unarmed violent mayhem with all combat and puzzles being solved using the environment, your trusty zero-point energy field manipulator and a little bit of common sense, the fantastic use of props and the havok system lead to some very interesting sequences that very few mods of the genre seem to include. Gravity is indeed a very powerful tool and RnD makes great use of it with weight, motion and buoyancy being at the core of most solutions for the problems at hand, with a few interesting extras thrown in for good measure.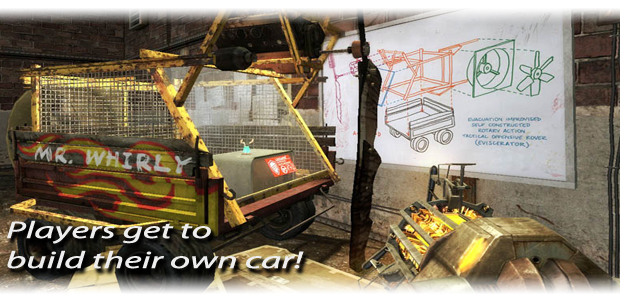 It turns out that your standard first person problem solving really does go out the window in this mod, anyone who is familiar with the Half-Life type puzzles would know of the old electrified cable on a puddle of water or using empty barrels under metal platforms to make them float will have quite a shock stepping into RnD. One part that had myself stumped for a few minutes had one of the most obvious answers. When faced with a padlocked door within vanilla HL2 the player will naturally shoot the padlock, it's always the first thing that will come to mind but RnD does not have any weapons to speak of so what would you do exactly? Pick up a gas tank and swing it at the padlock! Such a logical solution to such a simple puzzle was quite a different thought process for me and it only got better from that point onwards.
I'm not the type of person who enjoys sitting down and spending time for what is simply a Half-Life 2 map pack, most will need more than just a few kill rooms to tickle my fancy, but RnD does a fantastic job of putting the focus off combat and taking what Half-Life 2 promised from the beginning and delivering just that. Research and Development is definitely worthy of any Half-Life fans itching to get a bit more action, just without the crowbar.
Type: Single Player
Run Time: 2 Hours
File Size: 54.57 MB
Difficulty: Medium