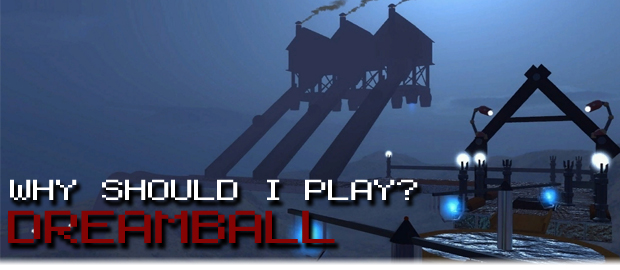 The original release of Dreamball (back in November of 2008) was plagued with problems but the idea and the concept were really solid. The most recent release was tasked with fixing the camera and movement problems so the gameplay would have a chance to shine above all else, and the developers did just that. From a design perspective, creating a world where controlling a marble to be both fun and engaging would have been tough but by focusing the development onto creating a liner path that is challenging enough to test the reflexes and logic of most gamers they have done well.

Gameplay is as simple as getting from point A to point B, while figuring out the puzzles on the way to progress further. For the most part these puzzles are very easy to complete, you play as a marble the difficulty really comes from the movement. As you navigate the level gravity and motion will take over at certain parts giving you a short time to react in order to traverse it correctly, for this reason the flow of difficulty is really out of whack, some platforming areas will leave you frustrated while other entire maps are way to easy. With that said, the game looks great. Objects reflect just how you think it would, vistas are beautiful and give you a feeling of being really small, but than again you are a marble.

Overall Dreamball is a really solid game, now that issues with the movement and camera positioning have been fixed I hope we can see some more content packs released by both the original developers and the community as well.
Type: Single Player
Run Time: + 1 Hours
File Size: 144.09 MB
Difficulty: Easy - Medium