This article doesn't represent any of S2 Team's opinions or recommendations (apart from a stickey in the official forums ;-)).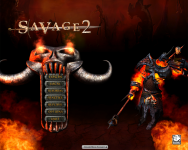 Download: Box.net
Installation guide: extract to your Documents folder, to a folder named "Savage 2 - Tortured Soul" or to your main S2 directory, to the "game" folder. ;-) Should work both ways.
Original S2 forums' thread: Forums.savage2.com
This new UI improves a lot of things, mainly helps you to not press 'alt' button all the time or zigzag sideways to see how much hps/mana/stamina left. :-)
It's made by Wiwiweb, basing on Stanz's UI!
Wiwiweb's guide through the new UI:
Changelogs:
Changelog v1.1
Changelog v1.1b
Changelog v1.2
Changelog v1.2b
Changelog v1.3
Changelog v1.4
Changelog v1.4b