For some time I have been working on an unannounced project, whilst also dealing with a big personal event (Achievement Unlocked: Got Married) and a not entirely enjoyable day job. On top of that I've got new consoles to play and the desire to have a life away from my desk.
This has meant that sitting down to struggle through some rather challenging areas of code & design has been less and less appealing. Progress has been slow and this has affected my hunger and desire to work in my spare time.
To reinvigorate myself, a new project has been started. I'm going to work bloody hard to finish this and unlike some other projects, getting it playable and shipped won't be enough. It needs polish. It needs depth in gameplay.
I am looking to take the concept of "Paint It Jack", a simple game about painting the gameworld that was prototyped in 2012 but never finished. I hope to go beyond my initial plans and make a fun arcade game with a range of game modes, characters, different enemies, pickups, a well built progression and also visually attractive - or at least less MS-Paint than my other games.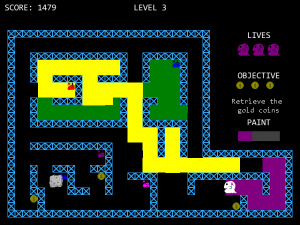 I don't expect to implement everything for initial release but I'd love to get something in a solid shape to put on IndieDB before moving back to the unannounced project. Once that is released, or at least functionally complete (pending playtests, feedback etc), then I'll move on to developing the next series of features.
Note: Unannounced project is not an original IP, hence no title. Perhaps I should think of a fun code name. Like how a film called Mary Lou was being shot near my flat recently...