Update 2.4 (Preview 2)

---
Technology Tree Overhaul
The Second Tiberium War is a learning tool for me for game balance and design. Perfecting the experience as much as possible is the goal of this project and one of those area's of improvement is the advancement from early to end game. I will go into more depth concerning the core method on how I've been doing this with a post I will dedicate to the main page from now on. It will include and entire layout of the newly designed technology tree with the strengths and weaknesses of both factions and keep it up to date as a constant game manual. As for now here is a small preview of the new technology tree's and the work I've put into it.
---
Balance Changes
Many balance changes have been made and some may seem drastic, but after playing many test matches I feel all were very necessary.
- Aircraft were pricey and not very useful, so all aircraft will see a damage increase as well as speed with reduced ammo charges.
- Regular gunfire will do 50% less damage to light armored vehicles and structures.
- Cannons will deal more damage to infantry to compare closely to RA2.
- Reduced cost to Tactician, Banshee.
- Increased cost to Temple of Nod and Ion Research Center due to Super weapons.
- All missiles do more damage to light armored vehicles.
- Vega has received a new weapon.
- And MANY MORE will be posted with update at release.

---
Map Design
Map design has always been a passion of mine, and is a very important aspect to any game.. You will see both new maps in multiplayer and reworked old ones. I test and play matches for fun, so I know all the issues with the current maps intimately.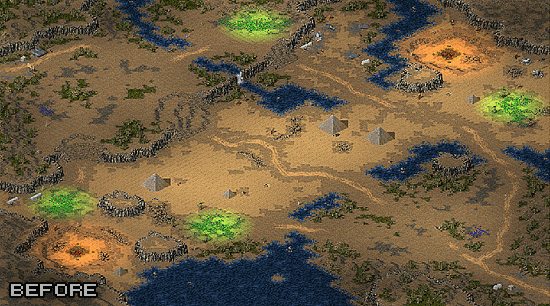 ---
Special Operation Mission
I've also added a new GDI special operation mission called Night Hawk. You take control of the new Commando Unit and assault a secret base during the night. Nod has been experimenting with Tiberium mutation on civilians and your there to stop it. Be careful, this mission is not easy.
Classic Tiberian Sun
Original Tiberian Sun and Firestorm maps are now available under the Game Mode options. This was not as easy as it looks as city based assets did not transfer over so I had to replace all structures manually on all the maps. I also re-rendered all map previews to fit the preview window correctly and increased clarity.

---
Graphics and Audio
As always I am improving on the existing graphics and audio to better express the atmosphere of the game. You will see improvements to unit and structure icons as well as in game clarity improvements.
- New Terror Flame Tank model
- C4 Icon added to Tactician and Vega Icon
- Added Rocket tower antenna
- Unique aircraft explosion audio
- Titan weapon and audio
- Badger weapon and audio
- Crates audio and visuals improved
- Laser and EM effects Improved
- New MCV icons
- and More!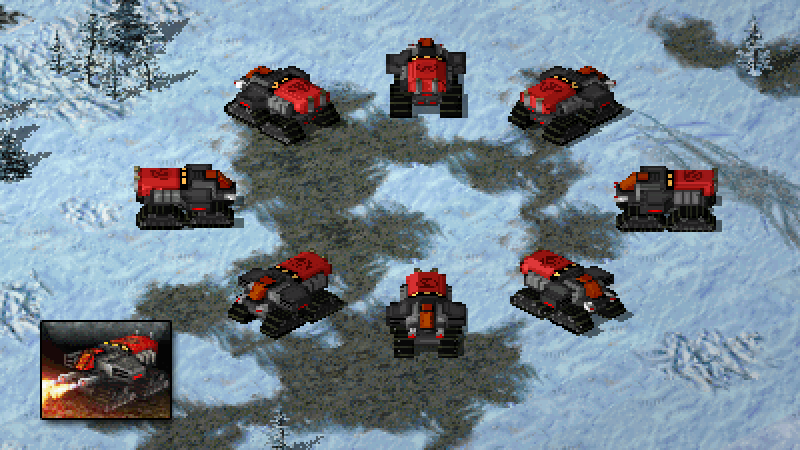 ---
What Next?
What I want to achieve for the next update will be an overhaul to infantry including visuals, weapons, and icons. Also power plants will be addressed and the Ion Reactor which will be replaced. More skirmish maps will be added and overhauled to make sure there are a good variety. Thank you.