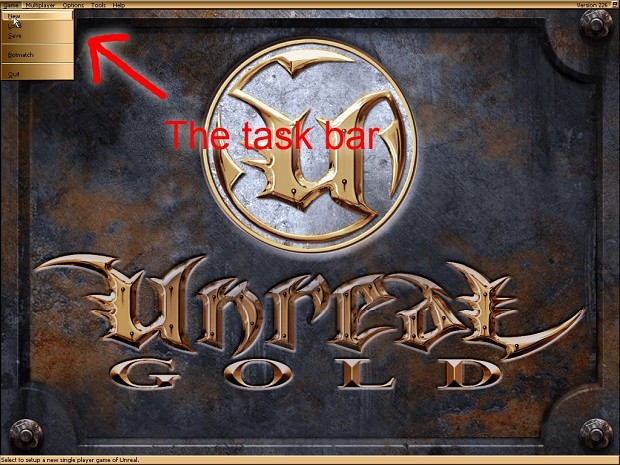 Originally, when mod development started to become popular during the late 90s, many games during the late era started to code to allow modders to add mods in the game, so Epic games programmed the game to make this happen, to allow modders to easily add their mods to the game engine and to have easy access to them.
Unreal Gold's release removed that accessibly to add mods despite the fact that it can still be accessed in the game code during their revision re-release or if someone re-coded some of the files in some way. I strongly believe the taskbar, which was adopted because of the release of Microsoft Windows 95 introduced the Start Button on the taskbar, which allowed for easy accessibly for programs.
Epic Games adopted this idea and placed it in as the Unreal User Interface and it made room for modder to add their own programs, like more game modes and characters. Most was just all just fun anyways.
However mods being produced didn't pan out as well as many people hoped, after the year 2000, PC video games development started to rule out that modders didn't have much with the space and supported provided by them to mod for video games during that time because not many people wanted it or make very small programs for the original Unreal, people now a days still have to work hard to get new content in the game and do succeed if they really want it and don't rely any features provided to them like offered before. This is clear in Unreal 2, as the option menu is a layout menu like any other game and they've dropped the taskbar, as well as Deus Ex Invisible War and Doom 3 had modded support dropped aswell whereas Unreal Tournament 2004 had modding support and gave raise to many total conversion multiplayer mods .
Having mentioned that, I believe that not many people fully understand how untapped of an opportunity working on the original Unreal Gold game to make an entirely new experience solely on the first engine of Unreal that started it all, which is why I've been working hard to get it figured out. I've uploaded it and I've been expecting copycats to download it and come out with their own visions of a total conversation mod. I've even changed the backdrop in the game engine aswell, which isn't just slapped on or anything.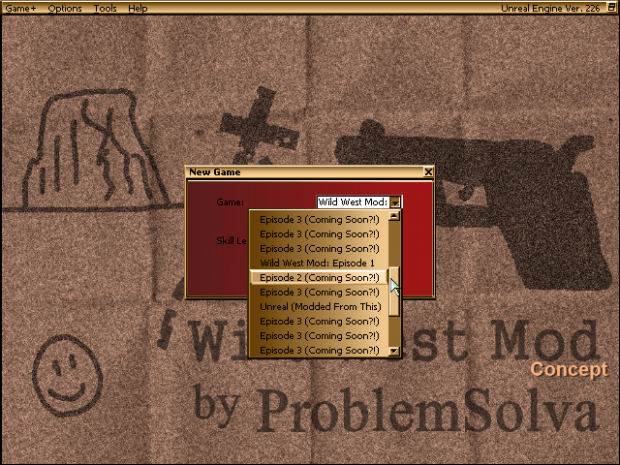 This hasn't been photoshopped. A menu is alot of options to choose from, notice how the arrows and scroll bar on the selection to the right are present.
I went the full hog to try to change the code so the New Game window can allow to the program to boot up more levels from the New Game option. Apparently Epic Games has programmed the windows to adapt to the change. If there is only 4 options in this window, the scroll arrows would never appear however if I add alot more options by changing the code, which I've done, the scroll arrow options would appear and I don't have to re-code them or anything.. Epic Games have this listed as 'UWindowCombo' in the game code to make this happen and to be adapted.I believe if many modders would make their own minigames in Unreal Engine 1, which is alot easier then doing the hard work for the code. These past images where in work in progress as I was experimenting with the coding to make the changes present. There alot of them because it was very easy for me to change code to get the result I wanted and which I've played with.
It's possible, but I have to do my bit to make. The application or a good reason for it doesn't exist yet, but it would fun if there was a mod or program that booted up 20 different games. Maybe just to give a person experience in developing a video game would just help, before moving onto others things, to see if it works or not, also team work, to see how people would manage and to see what people are good at or what they are not.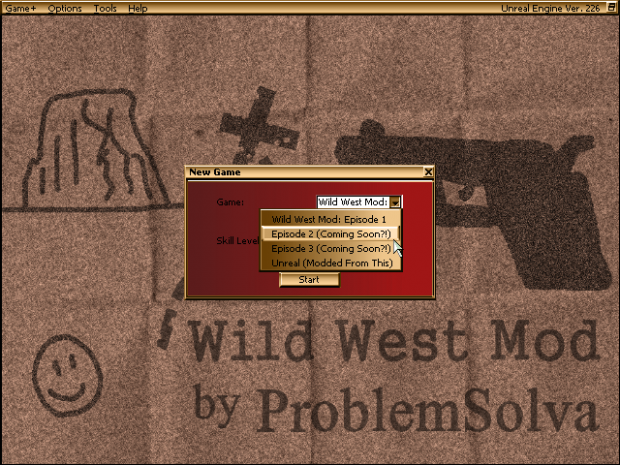 A 'New Game' menu with only 4 options, notice how the arrows don't appear unlike the previous image which I modified in another way.
It's clear from the Return to Nali Pa, which some of the games content which found in Nali Pa, was removed content from the orignal Unreal Game.... but that's all just a dream anyways, but I'm keeping good hold of the option just in case someone does want to be part of a team to feature there work, no matter how little they contribute. This is why I concluclued that the Taskbar feature in the original Unreal Gold game is worth a mention and being bought back, which is why I've edited and modified the code for the mod that I am currently making at the moment. Figuring this out only took me a day to reverse engineer and modify.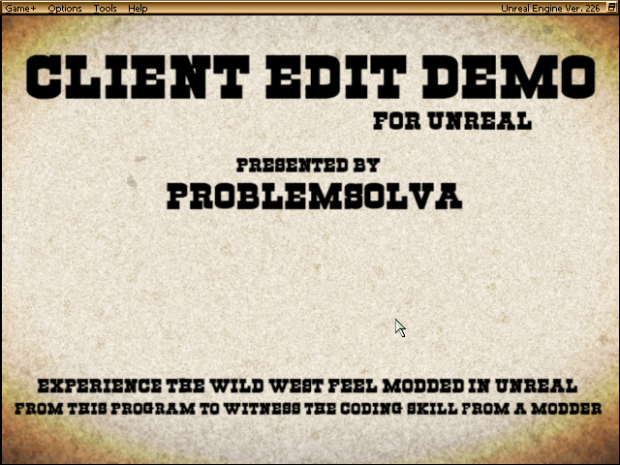 I also changed the background layout, also changed the map during start ups so players can run around or see a different map environment, as the original can be also changed. I also plan and create to extend the boxes openned in the mod, to really show off how modifying the windows before the player begins the game, which I'm working hard on getting on there.
You can download the client edit mods I made for Unreal Gold here to see for yourself and compare it with the original Unreal Gold game:

Thanks for reading