Welcome back once again,... men and women of the north! Today we bring you our:
COLUMBUS DAY UPDATE!
(ok slightly late... but only by a few hours. and mostly because of approval :P)
The purpose of this update is more of an interim update, to touch-base and let you know WE ARE STILL WORKING our buns off. But also to show off some of the awesome and detailed conceptual art that has been made during the process of working on WINTERFELL!
In honor of Columbus Day we figured we'd show you some of our own EXPLORATORY work in the process of bringing Winterfell in all it's splendor to a reality.
(Click on the images below)
First off, some conceptual sketches:
Through the process of our conceptual work we've been using Google Sketchup to create early conceptual design models from our sketches that serve as place-holders for the next stage of the workflow. Below you can see how these sketches have transformed from their early renditions into a much more evolved state:
Here are some more concepts so you can see the evolution of our work.
The Sept:
This has lead us also to the creation of our layout and blueprint model for Winterfell. Here too you can see the evolution of the castles design.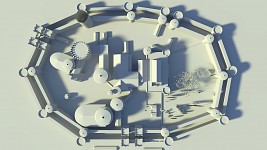 This is just the tip of the iceberg! There is a lot more work already produced and currently being worked upon. Please keep in mind ALL of the images above are merely a Work In Progress and do not represent the final end result.
We hope you enjoyed this small update! Please stay tuned and watch us for all our future updates. Also, please keep in mind we are still accepting applications to become a part of our development team. So please take time to fill out our application located here! We will review it and get back to you ASAP! More will be coming soon! Thank You for your continued interest & support.
- DarkAgent

(Westeros Project Admin Team)