Every week, Gamer's Guide To Life will be hunting down and interviewing modders on their works - mainstream, unknown, up-and-coming and interesting mods are put on display as the author(s) answer questions regarding the mod. This week, we take a dive into the unknown. In 2008, Stefan Köhler, aka 'projektariel' on Moddb, released 'SturmMod' to the public. A modification of the Far Cry game, this was more of an interactive experience; the player could essentially be in William Shakespeare's 'The Tempest'. While it wouldn't be a scene-by-scene reenactment of the play, players would piece together the story, based on their findings. The mod was used as a virtual stage for a live performance of 'The Tempest' by German theater/media arts group 'Projekt A.R.I.E.L'
GGTL: Where'd you get the idea for the mod?
Stefan Köhler: The basic idea of our students project was to research if and how modern digital media could establish new perspectives on a theater play from the 17th century. We worked mainly with the object-oriented programming language MAX / MSP which allowed us, among other things, to control spotlights with a Wiimote and to trigger sounds by motion-tracking via a video camera. One of our other ideas was to recreate the island from "The Tempest" in a virtual version, not merely as a video but as an environment which could be explored in realtime 3D. As avid gamers we knew this could be done best by using a FPS game, and that's where Far Cry came in.
GGTL: Why did you choose Far Cry as the game for this mod?
SK: Far Cry was a perfect fit because it's main environment is insular. With this, I could use most of it's assets in order to convert the descriptions given in the play into explorable places on the island. As I had no previous knowledge of mapping and programming before I started to work on the mod, the intuitive level editor and the simple yet powerful programming language LUA used for scripting saved time as well. Furthermore, the beginning of the story of Far Cry (when the hero Jack Carver survives an attack on his boat and strands on an unknown island) had an astounding parallel to Prospero's account in the play on how he shipwrecked at the island with his daughter Miranda.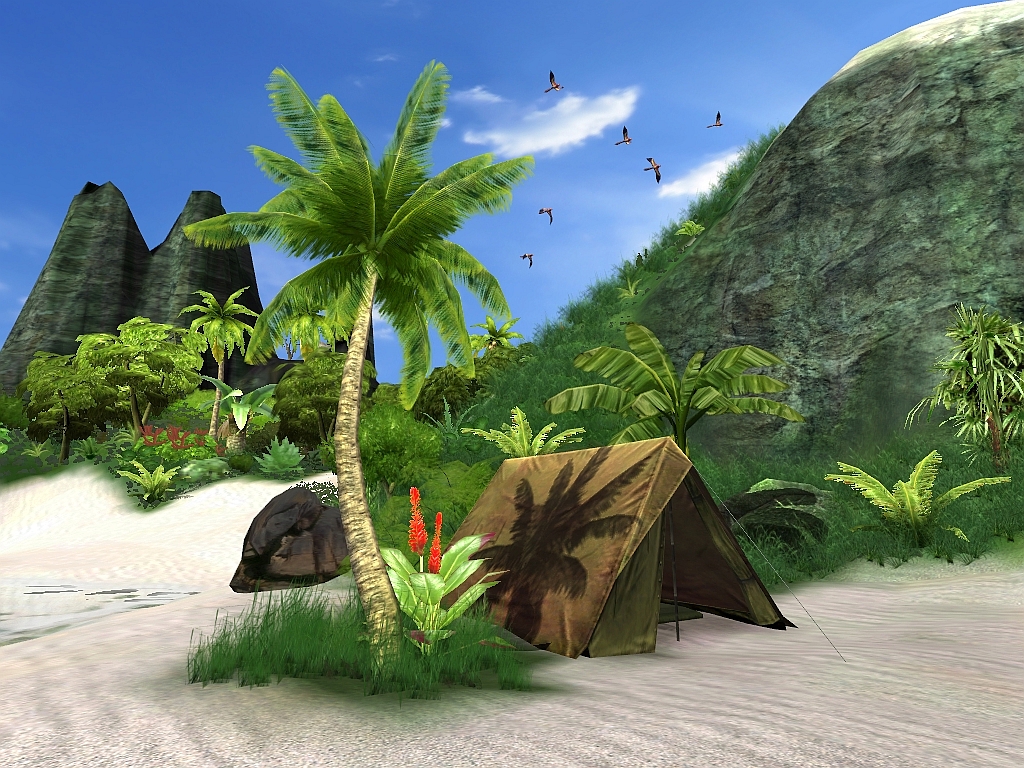 GGTL: How did you get into modding?
SK: At first I only wanted to create a simple map but that changed when I came across tutorials on modding Far Cry and was excited about the possibilities. Instead of wondering how to adapt a certain event from the play into the mod I tried out all the different features of Far Cry and thereby got ideas on how to use them to let the player experience "The Tempest" in a whole new way. To give an example: The possibility to trigger an incremental change of the environment lighting when the player enters a certain area is used to illustrate Ariel's siren call "Come to these yellow sands". As the player approaches the origin of the sound the sand he or she walks upon slowly turns from white to yellow.
GGTL: Did you take inspiration from any other games or mods?
SK: I learned a lot about modding by playing and studying other Far Cry mods. A special source of inspiration was definitely AVA2006's recreation of Jules Verne's Mysterious Island in Far Cry.

GGTL: What was the hardest thing to mod?
SK: While working with the Far Cry Sandbox Editor became easier over time, I had more difficulties to learn how to edit scripts properly. There were documentations for some features already available at modding sites like Crymod Modding Portal, but most of the time it was a frustrating game of trial and error until I found out which variable had to be changed in order to get a certain outcome. Fortunately, one of the scripting gods from Crymod, Mixer, liked the first build of the SturmMOD and helped me a lot in developing the v1.1 version, among others by scripting a custom dialogue trigger which opened up exciting new possibilities.
GGTL: How did the live performance go? Were people freaked out?
SK: Although we had first planned to let the audience play with the mod, we had to abandon this idea as unfortunately the majority of our visitors were familiar with theater but not with games. So what did the performance look like? As the mod, played by one of the performers, was projected not onto a plane canvas but onto paper strips hanging shifted in different rows, another performer was able to 'go into' this virtual stage. Furthermore the gaming performer could take over the role of Caliban, demonstrating in First-Person-Perspective how this character from the play hid behind a bamboo tree at a lake, occasionally leaning to the side to get a glimpse of Miranda who was bathing naked.
To our surprise the response of our audience was mostly positive. Thereby we were encouraged to upload our mod to the internet to give everyone who was not able to visit our live performances the opportunity to 'play Shakespeare' instead of simply watching it.

GGTL: Are you pleased with the feedback on your mod so far?
SK: Feedback on our work was and is very important for us because we always strive to develop it further. Many gamers didn't like the first version of the SturmMOD because they missed traditional gameplay and objectives. One of them, for example, complained that there was a boar but no weapon on the island. The second I told him that there was indeed a hidden machete, he was off hunting! Responses like this led to the development of the v1.1 version which in addition to the exploration mode offered new parts of traditional gameplay like riddles and combat as the player was able to learn more about the background of Prospero, the magician and main character from the play.
All in all we are happy that we apparently managed to interest at least a few gamers for the work of William Shakespeare. As I learned it could come in handy unexpectedly: One gamer told me that he went to a local pub quiz and when the question was asked which play of Shakespeare started with a shipwrecking, he knew the answer from playing the mod and scored a point! =)
GGTL: What's the plan for the future? Any other of Shakespeare's plays?
SK: At the moment all members of "Projekt A.R.I.E.L." are busy with other projects, but we plan to return to games and modding in the near future. This time it most likely won't be about a play from Shakespeare, because we already have other ideas for an experimental FPS mod, so stay tuned!

GGTL: What other mods have you played/do you like?
SK: As I am writing my diploma thesis on the development of modding at the moment I have played a lot of mods lately. The ones I enjoyed most are mods which experiment with new form of gameplay and topics. Examples include 'Dear Esther', the 'Radiator' episodes, 'Decay' and 'Prometheus'. My favorite multiplayer mod is 'Pirates, Vikings and Knights II' which is fun, although I suck at playing it. =P

GGTL: What advice would you give to other modders wanting to start up?
SK: Don't want too much at once, enhance your mod step by step, show it to other people and try to use constructive criticism in order to develop your skills and content.
If you'd like to download the mod, click here. Visit Gamer's Guide To Life every week for a new interview.