For FULL RESOLUTION IMAGES, GO TO THE SOURCE OF THIS ARTICLE AT Ultimate-empire-at-war.com !!!
'Howdly doodly doo, I'm Talkie, Talkie Toaster. Talkie's my name, and toasting's my game' - a little greeting for the British fans. Yanks, I expect, shall think I'm insane! Greetings again, it's time for another issue of the Dev's Blog, and this is your Christmas present and New Year's celebration wrapped into one bundle! The theme is 'retro' methinks; since we've been revisiting some old content and changing it from good - into great!
'So, what to tell you?' I ask myself rhetorically. Well, I could tell you about the thousands of lines of code re-making the game from scratch we've been up to, or I can show you some eye-candy. I'm guessing you want the eye-candy?
Well, in terms of eye-candy we've been up to a lot recently - much of it not just superficial but also related to the intended new game experience. I could show you a good deal of really awe-inspiring work; not just in terms of Evilbob and I dealing with entity graphics such as ships and explosions, but also in maps, both tactical and galactic, that newer members of the team are responsible. I'm not going to though; I'm going to, as usual, give you a little sniff at what we've been up to and keeping all the best, flashy bits for the final product ;).
So, where to start? My pride and joy is the re-created Nebula Class Star Destroyer. You'll probably remember a rougher version from V4; but in our quest to perfect everything (and in light of modern system capabilities putting to sleep any doubts about limitations on what we should do), we are not only making new graphics to replace old things but also re-creating our own work from the past: the Nebula SD's model has been enhanced, her skins and shaders improved, and most importantly carefully crafted lighting and shadow meshes added, and the result is beautiful! Fully interactive with the game environment, casting shadows very precisely (the shadow mesh is a fully detailed mesh of the hull; no detail sacrifice) onto itself and the environment depending on the tactical map's lighting! If you haven't already seen her on our Moddb, here she is: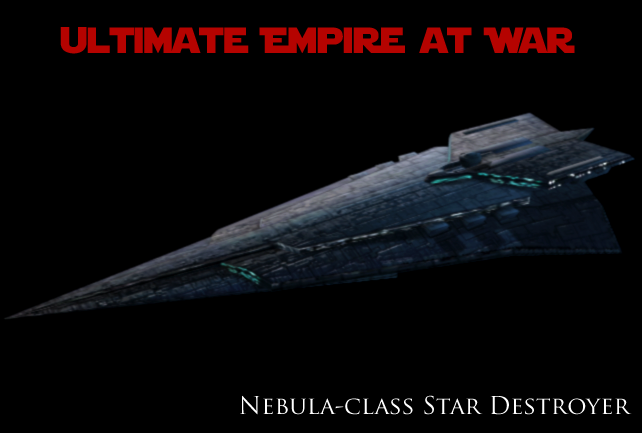 Also just off the press are the re-mastered Dreadnaughts - you'll remember there were multiple variants in V4; these (seriously re-coded ;) ) will be making an appearance in multiple eras of V1, and have themselves had their models optimised with the addition of lighting and shadows, and look far better for it.... Mmmmm lighting definition ;) :
And because I can't bring myself to leave you with only 2 images in this eye-candy edition (no matter how wonderful they are :P), you can also take a look at our re-skinned Acclamator, whose texture files are now in many, many times greater definition with a re-created skin and re-created lighting (original file 256x256; new recreated skin 1024x1024) - do forgive me, however, since the faction hull paint is not on these vessels yet; they are now canonical markings and no longer block colours like vanilla (all ships have proper paint-style instead of block colours, now), however not available for these screens:
That's your fill for today! Good night!
LTCC
Head of Coding, Jack-of-Most-Trades