We are working on the game's new score system. We've modified the previous one since it seemed unclear. Now when the game is over, a scoreboard will appear for each player, with their corresponding image, indicating the following information: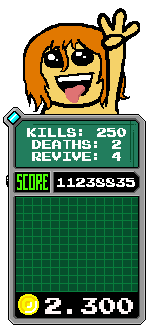 Kills: Number of enemies killed
Deaths: Number of times our character has died
Revive: Number of times we've revived another player
Score: Total score obtained
Below you can see the medals obtained after each game. At the moment, we have the following:

Conga Master: The player who manages to make the longest follower conga line
Greedy: The player that picks up the most number of coins
Super Medic: The player who revives the most teammates
King of the Hill: The player who manages to defeat the most enemies
There will be plenty more, and we're open to any suggestions! :)
Lastly, the number of coins that were picked up as well as the team score (adding up the individual scores) and team loot (adding all the coins) will all be added up too.