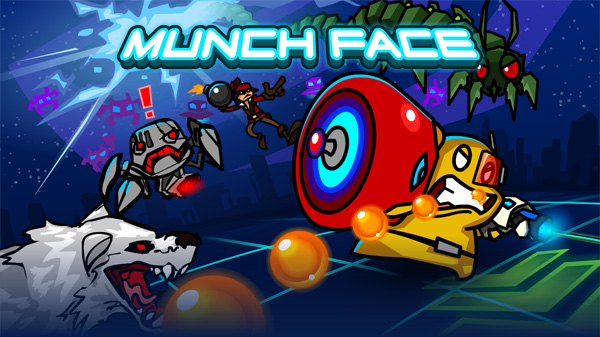 When I initially conceived Munch Face it was clearly inspired by Pac-Man, especially the Pac-Man Championship versions, one of my fave games of all time. I was hooked on that game for a while, reaching up a top 30 rank in the world out of several hundred thousand players. Some people have commented that Munch Face gives them that same sort of high as Pac-Man Championship, which warms my heart.
But we didn't want to settle there. My goal wasn't to make a clone of a game, but to take it in new directions. Our goal was to push design in a way that hadn't been done before. We initially tested out some additional gameplay mechanics, like being able to shoot the enemy. Which was fun. And then we tried something else, and it was wicked. And then we kept adding.
The next thing you know, we had hints of an arcade mashup and that's when the eureka moment happened. Imagine an arcade game mashup mixing elements from Portal, Space Invaders, Metal Gear Solid, Pac-Man Championship, etc. with a storyline inspired by Wreck It Ralph!
This direction is so much more interesting that we went back to redesign our splash screen to visually capture how different game elements are spilling into the Munch Face world.
This all sounds that much more interesting when you can create your own levels and do your own mashups. I'm dying to see what people cobble together. And I think that's the main hook. The levels I create are merely a sample to what could come, and the best stuff will ultimate come from the gamer. We're just catalysts for that inspiration.
Love for you to check out the game. It's still in early alpha and much could still change. Your feedback could help shape where things go from here!