As you may have seen here, in the game you will run into some big black monoliths. The black stones are being used by "someone" to speak to the player, and provide players with information about the plot, backstory and such. The black stones were inspired by different things, but there are 2 that are the most important (IMO).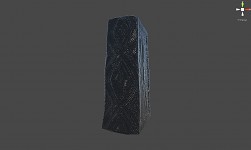 A few years ago, I was reading The Black Stone by Robert Howard. It was in a book with many tales from Lovecraftian authors (who were not Lovecraft). I am not going to tell you what the deal with that rock was, because I'd rather tell you to read the story (it's very cool). Long story short, there's a big mysterious black stone.
In 2001: A Space Odyssey, there's the big black monolith that supposedly caused evolution (somehow).
With those two ideas, and some other ideas, we were thinking about a black stone that could be very important for the plot in the game. I had been wondering about a way that "some obscure entity" could communicate with the protagonist, in a way that felt organic but also very "intimidating" so to speak. The idea is that every time you find one of these, it makes you feel like you're being called because the rock itself is extremely "important."
Right now we have a very basic shape, but we want to make a cooler model. We also want it to have some sort of sound, so it feels like it's alive and calling you. When you get close to it, the screen displays a message that will give you some information (but sometimes the information will be very obscure or cryptic).
The interaction with the rock is very simple at the moment, but I was thinking we could use something a little more interesting, as if the rock somehow drains part of the girl's life or something like that. We'll see how things go.
Again, we plan to launch a kickstarter soon-ish, so keep the eyes open!