The new Humble Paradox Bundle has launched, offering over $200 worth of Paradox Interactive's awesome, mod-friendly games for just $12. With games like Cities in Motion 2, Magicka 2, Majesty 2, Crusader Kings 2, Pillars of Eternity, Hearts of Iron III, Europa Univeralis III, and Stellaris, these Paradox titles span the gamut from 4X, to grand strategy, to fantasy RPG, to urban transport simulation.
To celebrate the launch of this bundle, we're taking a look at the three best mods for one game from each of the bundle's three tiers: Majesty 2: The Fantasy Kingdom Sim, Crusader Kings II, and Stellaris.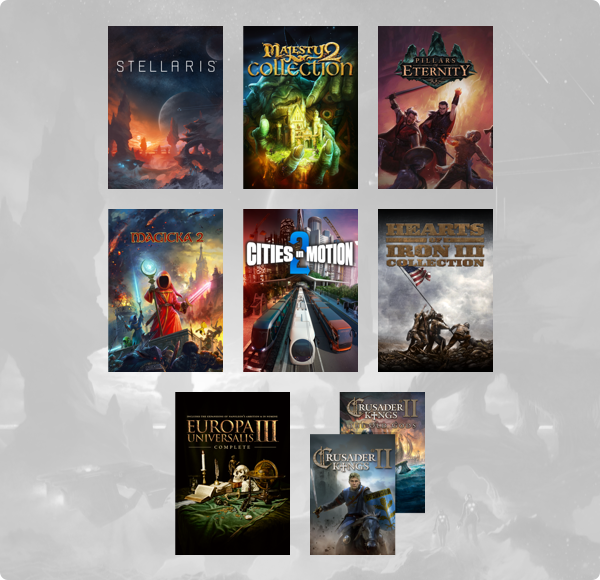 ---

Star Wars: A Galaxy Divided is a mod meant to transport players into the Star Wars universe within Stellaris. Using Legends canon, the mod is primarily set within the Old Republic timeline and includes a variety of factions and other content representative of that Era.

A total conversion mod for Stellaris set in the Homeworld universe. Contains new ships, technologies, components, music, and sound. Shipsets and prescripted empires for the Homeworld races: Kushan, Taiidan, Hiigaran, Vaygr, Kadesh, Turanic Raiders, Somtaaw, Beast, Keepers/ Beast and Keepers are hive mind and machine empire, respectively. Included secondary versions of those empires for those lacking the DLCs.

Expand your galaxy up to 10,000 stars, and 5,000 AI Empires. Includes a custom star name list. This release of Massive Galaxies is a major update to the previous v1.10, and includes: A new star name list with around 6,000 names New, more mind-blowing, starting options And a more epic experience.
---

Guardians of Azeroth - is a global mod, based on the Warcraft universe by Blizzard Intertainment. In this mod our team is going to image the world of Azeroth in all its glory, particularly focusing on the story of the classic strategies and World of Warcraft Classic. You will be able to assume the role of one of the human kings or test your luck in the role of conqueror of other worlds!

A Game of Thrones is a total conversion mod for Crusader Kings II, based on George R. R. Martin's fantasy novel series, A Song of Ice and Fire. Currently players are able to choose to play from any start date in the 300 years from before the Aegon's Conquest to the beginning of the fourth book (A Feast for Crows).

Elder Kings is an Elder Scrolls themed total conversion for the Paradox Development Studio game Crusader Kings 2. It allows players to live out their dreams of ruling one of the great realms of Tamriel and leading their dynasty through it's various eras and challenges. While still effectively a Work-In-Progress Project, Elder Kings still offers one of the biggest gameplay experiences available for a released CK2 mod!
---

Majesty 2 Reloaded is a mod in which all changes will be made to rebalance and enhance the game.

It's been a while since the invasion of goblins and all the monster and local folk troubles. The kingdom has been rebuilt and its former glory was restored. The life has once again become a peaceful, safe routine. Merchants open new tradeposts and markets, heroes defend the borders of Ardania, and Your Majesty may rest... Your Majesty, wake up! The magic circle of the Southern Wizards has intruded into our lands! Everything goes up in flames, our heroes cannot resist the power these foes have in their magic! We should retreat, as soon as possible, or face inevitable death.

Having trouble defending your kingdom? Are the monsters overwhelming you and your heroes incompetent? Perhaps you'd like a little help? -- No problem! -- Just download this mod, and every spell cost absolutely nothing. Or if that's too easy for you, how about a reduced spell cost!