Supporting the Vision is about empowering gamers everywhere.
It's about reminding you all that you are not just passive mindless consumers, but individuals with the power to bring games to the market. All YOU have to decide is this; Are you willing to use this power to support Interstellar Marines?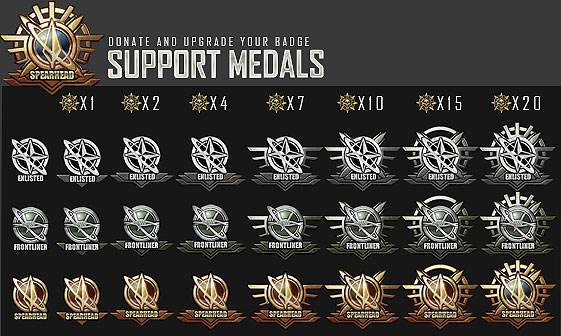 Each Support Medal costs $5

First Support Medal unlocks Avatars in your profile

Support Medals automatically upgrade your Marine badge

Convert Support Medals into a Spearhead upgrade


We are extremely committed on keeping our Zero Point Software @ Twitter page up to date with exciting updates about our day to day struggles, important updates and general information regarding the development of Interstellar Marines.


Join interesting discussions with our other Fans on Facebook!
Do not hesitate to send "BECOME A FAN" invites to all of your friends, you can always say it's "For the love of the game!"


Subscribe and get announcements only minutes after we upload new videos. All our public videos on this community site are embedded from YouTube! Everything from trailers and teasers to "behind the scenes" features all taking you closer and closer to Interstellar Marines.


Head over to our Merchandise shop on Zazzle and please join the forum and post all your crazy ideas for cool merchandise!

Click here to see the original article