Combat Aspects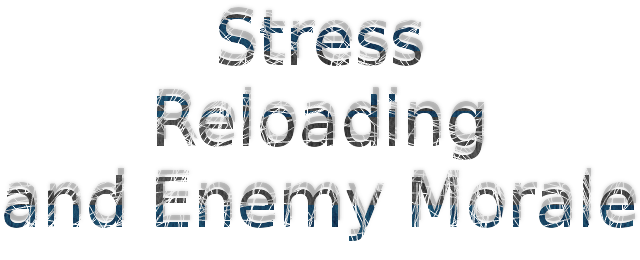 ---

Foreword
Stress. We all get stressed. Some get easily stressed, some harder. But I bet that anyone reading this, would get too stressed in a combat situation. Reloading would take too much time, you'd spray bullets all over the place and would probably do something stupid and then get shot at.
That's all possible to do to NPCs.
But not necessarily to players.
Players know it's not happening to them. They'd get a bit stressed, probably. But not enough to just start spraying bullets. So, we have to do something.
So, here I start explaining how it works
In-Game
What I thought up is pretty awesome - at least that's what I think -, so hear me out.
You'd get stressed, more and more, when you're under heavy fire. Suppressed, mostly.
You'd have a higher chance, depending on how heavily you're being shot at, of cocking things up. Dropping the magazine or otherwise. It could get jammed (Worst case scenario) or just take a long time. You'd get more inaccurate and you'd start breathing heavily, making it a bit intensive and something the player DOES NOT WANT. Again, something I indeed want.
This would make it a bit more relying on tactics. You'd want to stay in very good cover or flank the enemy. Giving room to more strategy. And keep in mind, one of the characters you play as is a corporal, having some (I deeply mean the word SOME) control on your allied soldiers.
I pretty much said how the NPCs would react, so there you go.
They'd be prone to make more mistakes, they'd (also) probably take longer times in reloading and would spray bullets all over the place.

Now, I came up with great ways to reload. No, nothing more than a simple press of a button.
But when you're in combat and you have to reload, you reload fast. Most probably not caring what happens to the last clip AT the time. So, I'm going to say this simply.
When in combat, tapping the reload key reloads fast. It throws away the last clip, losing any ammo that was in it. Holding the reload key in combat would take the longer one. Taking the old clip with any ammo it has back into your lovely ammo-pouch.
Outside of combat, holding or just tapping it will take the longer version.

Now for the last bit of information you'll be getting.
You've probably noticed that usually in games, no matter how many you kill, the enemy just keeps pressing on. Would you? "That guy just killed like a thousand of my fellow comrades! I MUST BE ABLE TO KILL HI-URK!"
So yes, they should be able to retreat. Depending on how many guys you have and how many they have, what kind of an arsenal you and they have and what advantages do they or you have in the environment. They can retreat, they can push forth if your guys lose morale and so on (Trust me, we're going to do it so that when your guys retreat and the enemy will push forward, you'd better retreat as well).
So, that's it.