There are very few things in this universe I'm certain of. The concept of time, it simply may not exist. Spatial distance could just be an illusion -- with the macrocosm of our universe simply being a microscopic look at our reality. Death and existence are still a mystery. However

I'm absolutely certain

that when Bulb Boy is released towards the end of 2015, it will be one of the most popular (and successful) games the world has ever seen.
Bulb Boy has everything. The incredibly cute and likeable character that could be transformed into an array of toys that children would salivate over for the Christmas season. The soundtrack is unlike anything anyone has ever heard before, I mean it's debatable if it can even be classified in a genre. And the gameplay of Bulb Boy is as classic and timeless as a game of chess, or Tetris -- or Chess Tetris if that's even a thing (oh wait,
it is
).Therefore it
only makes sense
that we interview the Poland-based team of Bulb Boy for TheStonedGamer.com since we're only in the business of giving you guys the
best
. Check it out.
The concept of light and dark is probably the oldest dichotomy in history. It was the staple in the Star Wars franchise and now Bulb Boy seems to be heavily rooted around it. Why do you think humans respond so strongly the polarization of light and dark and why did you decide to go with this concept as the motif of Bulb Boy?

We always thought about Bulb Boy as a universal story which could be understandable by people coming from different cultures and religions. We are all scared by darkness. It symbolizes the unknown and danger. Many horror game utilize this idea by giving protagonist the flashlight. In Bulb Boy you are the light source, which makes the game feels even more vulnerable.Szymon & Artur from the Bulb Boy Team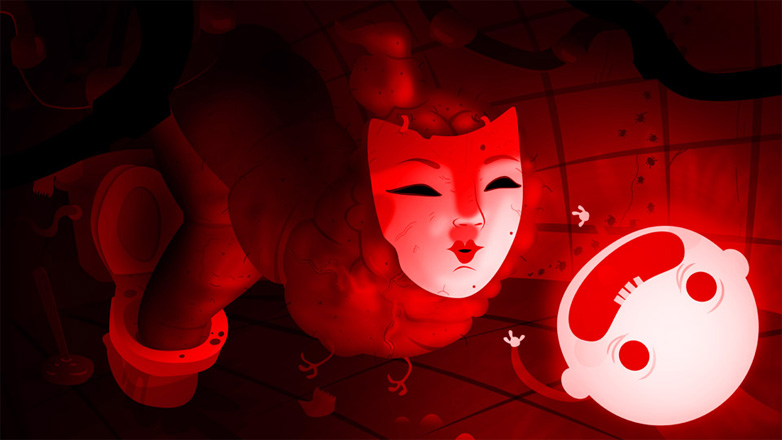 The art direction seems directly out of the pages of the creepiest children's book ever imagined. Did you build Bulb Boy around the conceptual art, or did the concept of Bulb Boy fuel the art direction?

These two things work in tandem. The whole game is being built around some monster concepts which is nice for us, but at the same time we want to relate this idea to Bulb Boy. To be honest we are fans of old school horrors and the coolest thing for us is to be able to put some nasty monsters in there (much more horrid than
Snotty Bunny
). No sober parents would ever allow their children to read a book with such monsters.Szymon & Artur from the Bulb Boy Team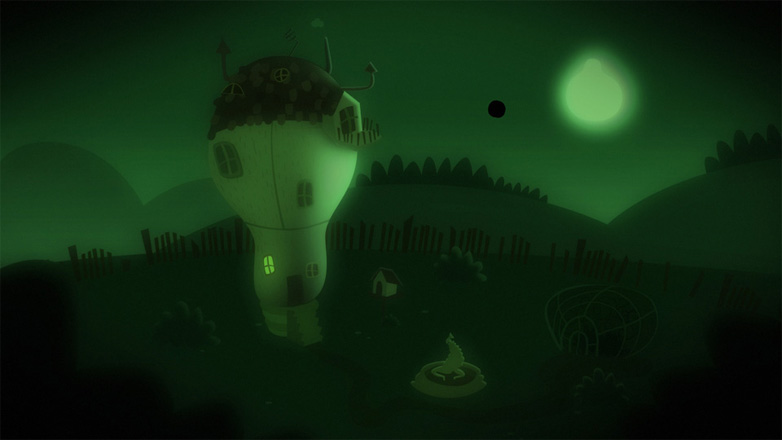 I played the Bulb Boy demo and noticed that it does have the point-in-click feel similar to Discworld and Gobliiins. What previous games inspired in the creation of Bulb Boy, and did I just tell the world how old I am by referencing those two games?

It looks like we are the same age! Answering your question - definitely
Gobliiins
when it comes to mechanics and structure (rooms structure, intimate gameplay, many protagonists).
Another World
when it comes to overall atmosphere (inquiring players would find some Easter Eggs) and
Limbo
when concerning aesthetics. We decided to make the whole game in one greenish tone and use red colors very, very occasionally.Szymon & Artur from the Bulb Boy Team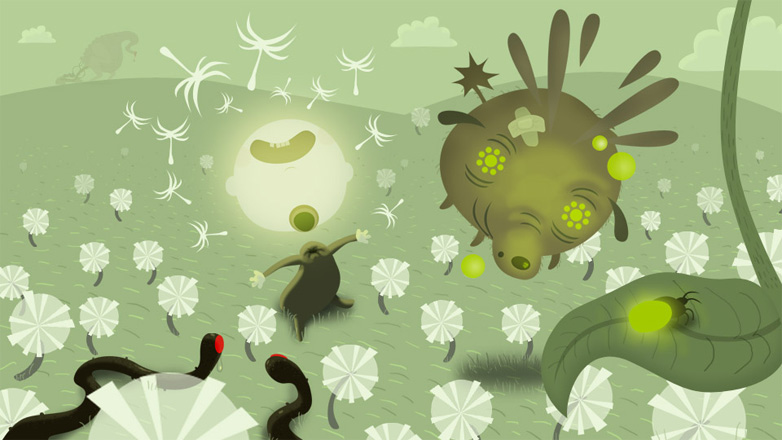 Bulb Boy occurs in the 'Electric Forest,' what planet/galaxy does this take place, or does Bulb Boy take place in a parallel universe with a set of new physical laws different than our own? Also, is this in the future, past, or present. We love to get know our gaming universes.

It's a parallel universe with its own physical laws (for example you can detach your head and stay alive). We assume that all people of these universe are bulbs. Many people assumed that Grandpa is a bong, but it is not true.Szymon & Artur from the Bulb Boy Team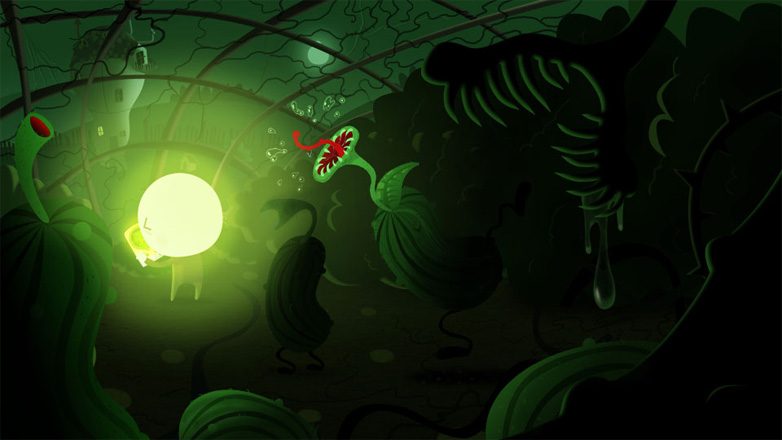 You chose to go with no dialogue, and instead communicate with suggestive bubbles that are filled with illustrations in Bulb Boy. Do you think all languages on the planet will eventually transform into a collection of emoticons/emojis that will have the ability to convey information to another as effectively as English, French...etc.

We think that our game orbits around such universal emotions (love, fear, happiness) that all the people can relate to them. However it would be pretty difficult to translate some complicated dialogue to pictograms. So we have to keep being very straightforward about that.Szymon & Artur from the Bulb Boy Team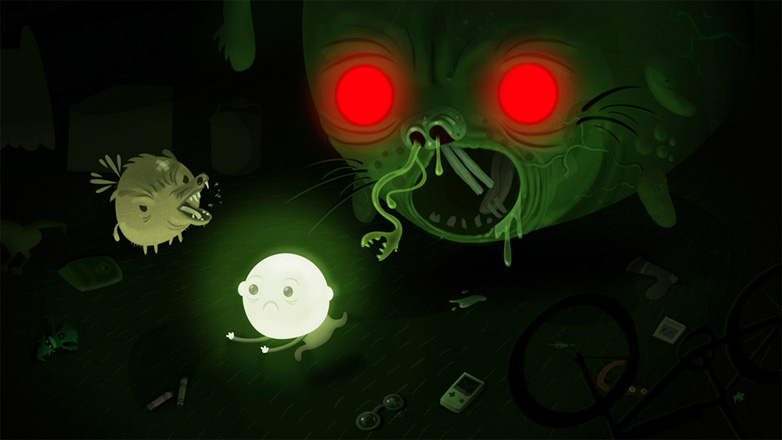 Judging from the aesthetics and gameplay of Bulb Boy, this game is going to be so unbelievably big when it's released. Did you leave enough story within the game to create a feature-length animated kid's film from it?

We're not going to exploit the story completely throughout the game. It's a very intimate game -- all action takes place in one house (Bulb Mansion) and its surroundings. There are many loose ends in the story, on which we can build further. It would be very nice to show more of this universe and Bulb's family in future. However this kind of question right now is pure flattery. We want to concentrate on developing a solid title. We'll see what comes next.Szymon & Artur from the Bulb Boy Team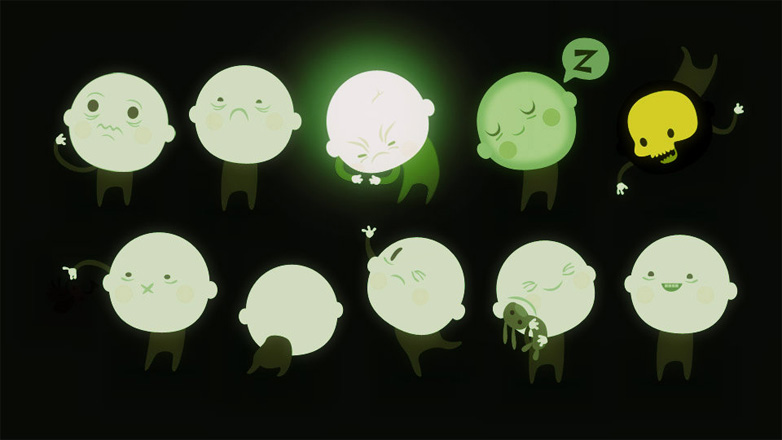 Was it pretty disheartening to not have Bulb Boy completely funded on Kickstarter? How have you overcome this?

It was pretty difficult because we were not sure what went wrong. We had good press, representative demo, positive feedback, were greenlit by Steam in 6 days, we've read pretty much every sensible Kickstarter campaign tutorial, but still we weren't able to gather enough money. We were also contacted by several investors, so we knew there is still another way. After cancelling the campaign it turned out for us that we are in a much better position than we would be after a successful Kickstarter. We have found someone (or we should rather say someone found us) that loves the idea so much that he decided to invest his own money in our project. We're not in the publisher-developer kind of relationship and we're not obliged to prepare physical rewards so it's definitely the best possible solution. So the whole campaign was for us was a trip through thousands of emotions.Szymon & Artur from the Bulb Boy Team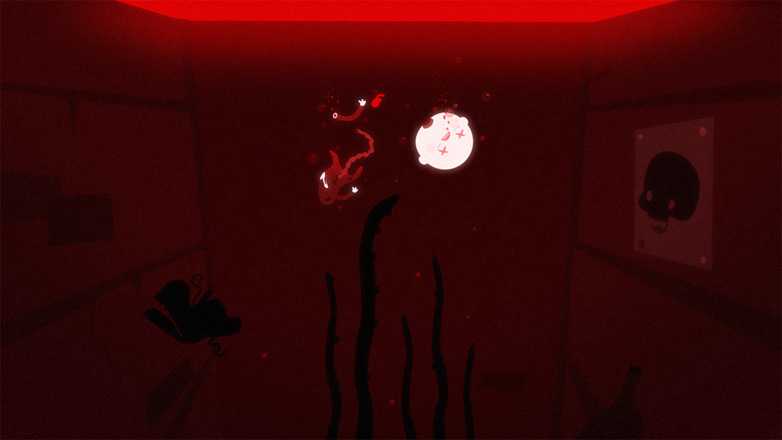 What innate qualities did you instil in your main character Bulb Boy that players will be able to relate to?

Bulb is a sensitive boy, but at the same time he has got wit and is cunning, which allows him to outsmart menacing monsters and save his family. He also has a prankster personality. That means he is very brave, but also a little mischievous -- so he is like most of us.
When we think about relating to the physical form of Bulb all in all we can relate to him. Bulb Boy is easy to hurt -- he has got a fragile glass head so it's easy to break it. Humans are also delicate sacks of meat which can be easily broken. So if one day someone would face some evil giant like Snotty Bunny, it's rather unlikely he would confront him directly. That's what this game is all about. You have to find ways to use the environment, items and your abilities to outwit your enemies.Szymon & Artur from the Bulb Boy Team
Eager to play the demo? Then visit Bulb Boy's official page and give the game a shot directly from your browser. Also be sure to follow the development team on Twitter @BulbBoyGame for updates. Oh, and this wonderful trailer. It's a must see, trust us.