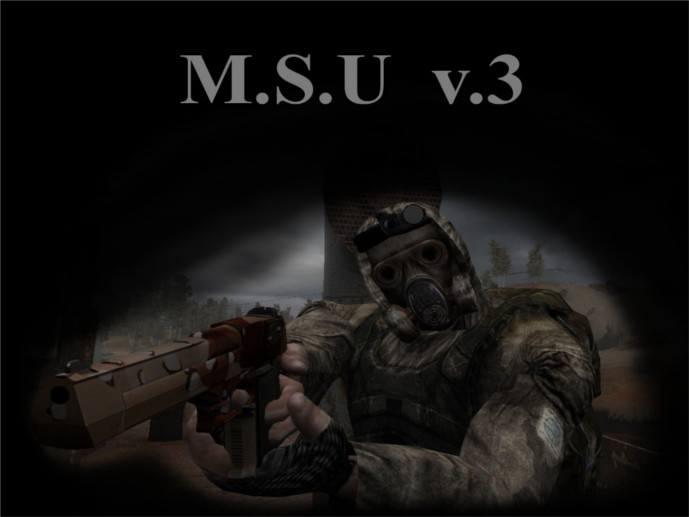 ---
Mod name: "Massiv Update" v.3
Author : ll-StalkeR-ll
You have in the News of "M.S.U", the general change that I want to make or are already integrated into the games, i'm going to focus here on the changes already done and let you knowsome choices about what i can't decided alone.
Here is the latest change made after the publication of the first video on M.S.U v.3 :
_ Currently twenty new model of NPCs have been added, Perhaps more will their appearances after reflexion.
_ The Fractur, rat, zombie, cat have been added, the mutant spawn has been revised upwards so you can found Burers, Chimera, PseudoGiant arrived in the Zone, always counting on this usually mutant on all map.
_ The influence of the mutant was also reviewed and radiate you if you approached too, the radius differs according faced creatures.
_ You can pick up parts of the mutant corpses and sell, You can also get money on corpse of the human enemies for whom you do not have a great affection visibly ;)
_ The Dynamics "hud" is still present in Msu but it was completely changed to accommodate the majority of masks from mod "Dynamic HUD from ABC Inferno and AMK", I reworked the transparency of these masks for improved visibility.
_Nano Hud by Crommcruac, withaout the hotkey.
_New "GlobalMap" with relief and better readability,color changed to better map represented the "in-game" view.
Cam inert by Triss, slightly lower inertia as the "head bobbing" was reworked
_220 anomalies added.
_ Light are breakable.
_TV and Radio in bases.
_Tremor medic remplacment after his death.
_Sounds of weapons, player when he suffered damage, were changed to sound with better quality or better resemblance to "reality".
_Sounds menu change, from SZM because i love it :)
_Background music of the game comes in part from clear sky.
......................................................................