The plot of Seed Pod Shuffle focuses on Jasmine's quest to build a home in time for winter.The player helps her achieve this by making matches, clearing tiles, and generally having fun using their match 3 skills. But how exactly is this home built, and how is it represented in the game? This is the focus of this week's Developer Diary.
When a player starts a new level in Seed Pod Shuffle, they are given a new game board populated with a mixture of green and white tiles. Their first objective is to clear all the green tiles by matching symbols over them. Once this is done, a house part appears at the top of the board. The house part could be anything from stones for the fireplace to straw for the thatched roof - that's right, in the world of Seed Pod Shuffle, small furry creatures make fires and thatch roofs!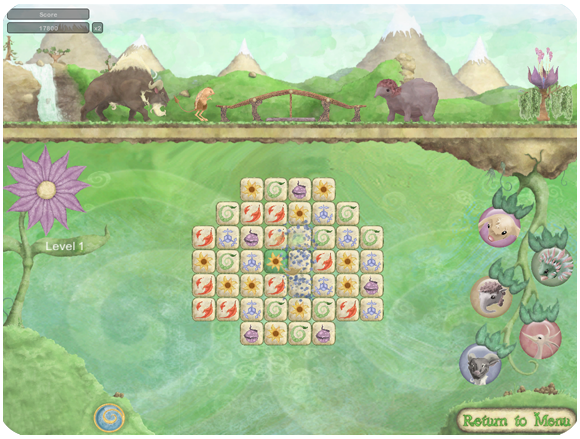 Here you can see Jasmine's partially constructed house in the Environment Panel...
Before the player can use the part, they need to get it to the bottom of the board, either by matching the symbols underneath it or destroying them with creature abilities (more on these next time!). Once the house part reaches the bottom of the board, the visual treats really begin!
Now the player gets to drag the house part up into the middle of the Environment Panel, and drop it to attach the part to the house, amid a flurry of colours and celebration. Over time, the house gets built up in the Environment Panel, and stays there for the player to admire as they continue playing through the game. In this way, Jasmine's home acts as a great visual reminder of the player's progress through the game.
Now for the icing on the cake - the player can, at any time, click on Jasmine's home to instantly view the house in its full 3D environment, surrounded by all the plants the player has grown, as well as any creatures that might happen to be in the Environment Panel at the time. This won't just be some separate representation of the house and its surroundings that the the game quickly throws together. The Environment Panel really is a persistent 3D environment that the player can view in all its glory any time they choose!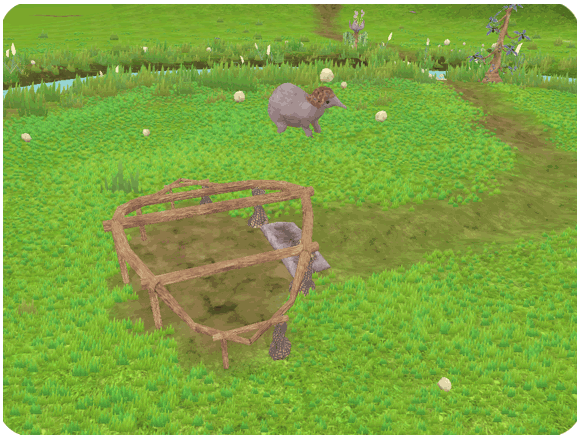 ...and here it is in the House Viewer, with Rosemary in the background!
Most match 3 games would show the house as a dull painted background, maybe with a few tufts of grass swaying gently in front of it to give the illusion of life. Seed Pod Shuffle features a living, breathing, 3D environment, complete with flowing rivers, dancing butterflies and frollicking creatures! The match 3 revolution starts soon!