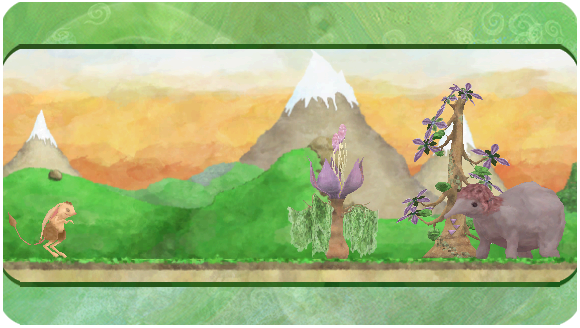 Jasmine and Rosemary, happily wandering amongst the plants.
Well hello! Welcome to the first instalment of what we hope will be an entertaining and enlightening series of developer diaries. These won't be regular in any way, so if you want to keep track of the latest developments you'll have to be on your toes.
Today, we're going to take a look at an element of Seed Pod Shuffle that we've been calling the 'Environment Panel'. Admittedly, it's not a very catchy name, and we're open to suggestions for a snappy alternative! That said, the Environment Panel is possibly the most interesting aspect of Seed Pod Shuffle from a design standpoint. It's this element that takes the standard match 3 puzzle formula, and gives it a whole new dimension - literally.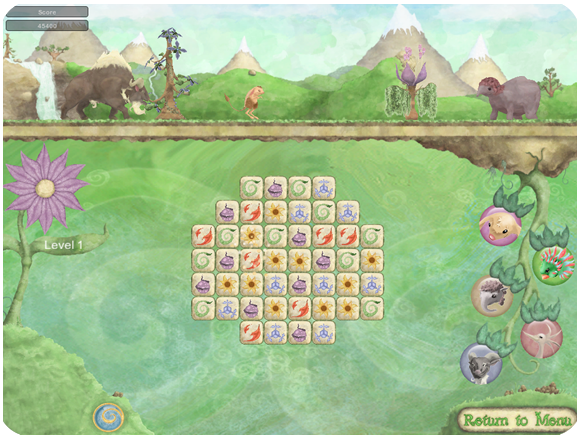 If you look at the work-in-progress screenshot above you'll notice that, above the typical match 3 game board, there's a strip of lush wilderness featuring rolling hills, majestic mountains, and a glittering waterfall (okay, I may have exaggerated its grandeur, but you see what I mean). This is the Environment Panel, and it represents Seed Pod Shuffle's 'metagame' - a game within a game.
By matching symbols and scoring points on the board, the player gains access to seeds, which can be dragged off the board and planted in the Environment Panel. These grow into plants, which attract creatures. This in turn gives the player access to 'Creature Abilities', which can be used to do all sorts of useful and fun things to the game board.
This is the first cool thing about the Environment Panel - it isn't just something that's been tacked on to beef up or pad out the game. What happens in the Environment Panel actually matters. The second cool thing is that you get to watch cute, crazy, fully animated 3D creatures running around and interacting with each other. How many match 3 games can say that? The third cool thing is the house, but we'll have more on that next time...
Seed Pod Shuffle is coming soon. In the meantime, we'll be updating PaperGiantStudios.com every Friday to meet the high demand for seed-shuffling goodness!