Type: Infantry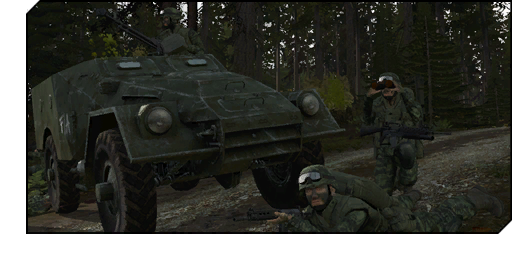 Difficulty: Moderate
Released in: v2.20

Description:
Our troops again successfully progressed to the south and freed the other territory of Chernarus.
Advance through the Three valleys completely cut off escape routes for survivors off the CSLA units stucked on the north.
But this does not affect on the rearrangement of the CSLA units on the south, which is still under their control.
According to information from intelligence service several invasive units already withdrew to the Utes island, but in the inland still remains their large and particularly effective part.
A few hours CSLA shelling already causing problems to our troops when they are moving between positions.
Somewhere in the woods of no man's land territory probably operate any Forwarded Artillery Observers. They manage the remote firing of yet unidentified artillery equipment.
Therefore your task is to move close to the town Elektrozavodsk, where is probably located the artillery position.
Move to the entry position and using binoculars watch the surroundings.
Position of artillery should be localized as soon as possible so that it can be eliminated by our own artillery (call sign ANTARES).