On the battlefield two Soul Casters clash against each other. One of them is you, the other one, your enemy.
Let's check some of the elements of the battlefield, with the help of this diagram: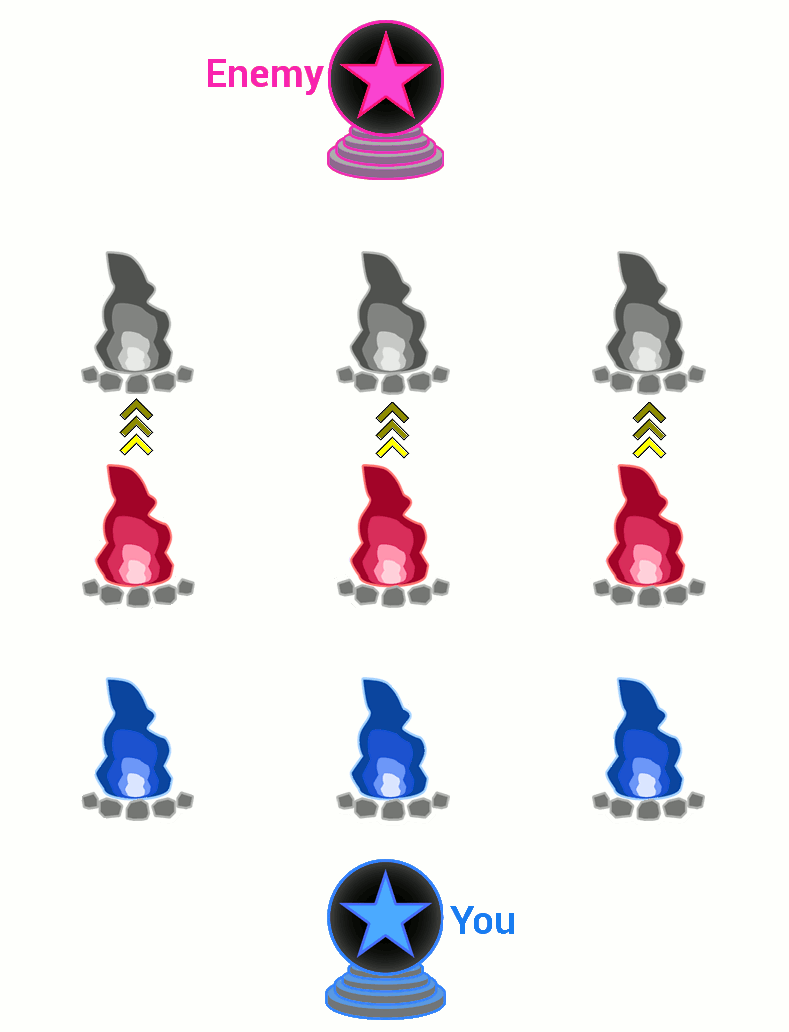 The Totem
Each Soul Caster is protected on the battlefield by a big dormant creature that envelopes the body of the Soul Caster. Once that totem is destroyed, the Soul Caster is defeated and the battle is won.
The Soul Wells
Although very powerful, the Soul Casters cannot manifest life directly.
To summon creatures to battle for them, they're compelled to use the spiritual energy condensed on the Soul Wells scattered around the battlefield.
The Soul Wells manifest on reality as ethereal flames of different colors. There are three different types (according to each Soul Caster point of view):
The defensive Soul Wells are the ones nearest to your Totem and they emit blue flames. When a creature it's casted there, that creature will stay on the Soul Well and target any enemy's creature attacking the Totem.
The offensive Soul Wells are the ones on the center of the field, they emit red flames. Creatures casted on them will advance to the Soul Wells on the front to attack the enemy's totem.
Disabled Soul Wells: When a Soul Well emits white flames, it means that the Soul Caster cannot use it currently to cast creatures. The Soul Wells nearest to the enemy Totem are always disabled (since they're the defensive ones of your enemy).
Well that's our little sneak peek for this week. We wish you all a great day!
We are very hopeful about this project and we're looking forward to working with the community! If you have questions about this project or something else, you can contact us at info@psiontech.com
© 2017 Psiontech, S.A.