Part One: The British Informer
We have taken every effort to bring the the words of the novel to life in the world in which they were written. The Thirty Nine Steps is set in 1914 Britain – and does an incredible job of weaving its fiction in with the reality of the time. At this point in history, there was a number of important events that would have filled the broadsheets – the rising tension in Europe and the Near East; the plight of the Suffragettes; and who was going to win the Epsom Derby.
This has allowed us the opportunity to work with newspapers and their archive to infuse our retelling of the story with actual stories of the day. So, you will see The Observer, The Scotsman and even the Peebleshire News within our version of John Buchan's story (so huge thanks to all of those for letting us use and adapt their archives).
Of course, there are points at which the fiction needs to distance itself from reality, and to handle such moments we have created a fictional newspaper of the British Empire, called The British Informer. We are particularly proud of our creation, and the articles are crafted with love and precision (and all extrapolated from the book and the time). Here's a first look: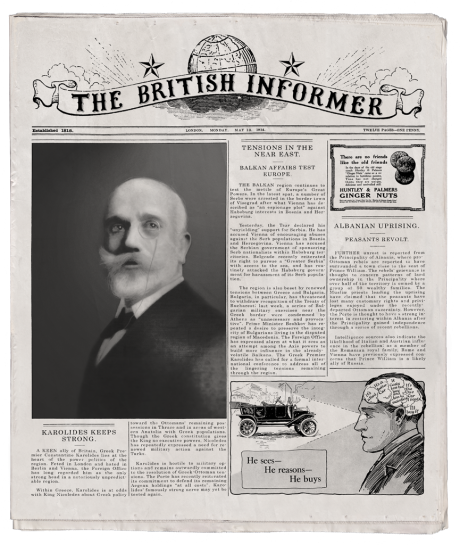 First look: The British Informer
If you're liking what you're seeing, please do start spreading the word! We're totally passionate about this product, and really want everyone to have a chance to play it!
As ever, we're always happy to hear your comments :)
Author: Simon Meek