As we've been known to say on more than one occasion, we want Spy DNA combat to feel very realistic, and by extension this means that the weapons also need to work like you'd expect them to in real life.
On one hand, weapons need to work realistically, in the sense that they should have a range and damage specifications similar to the ones in real life. Sniper rifles are best used at ranges over 100 meters (and we'll make sure there are maps big enough for that to matter), and handguns are a good choice for concealed weapons or closed-quarters combat, where you'd have difficulty wielding a long-barreled assault rifle.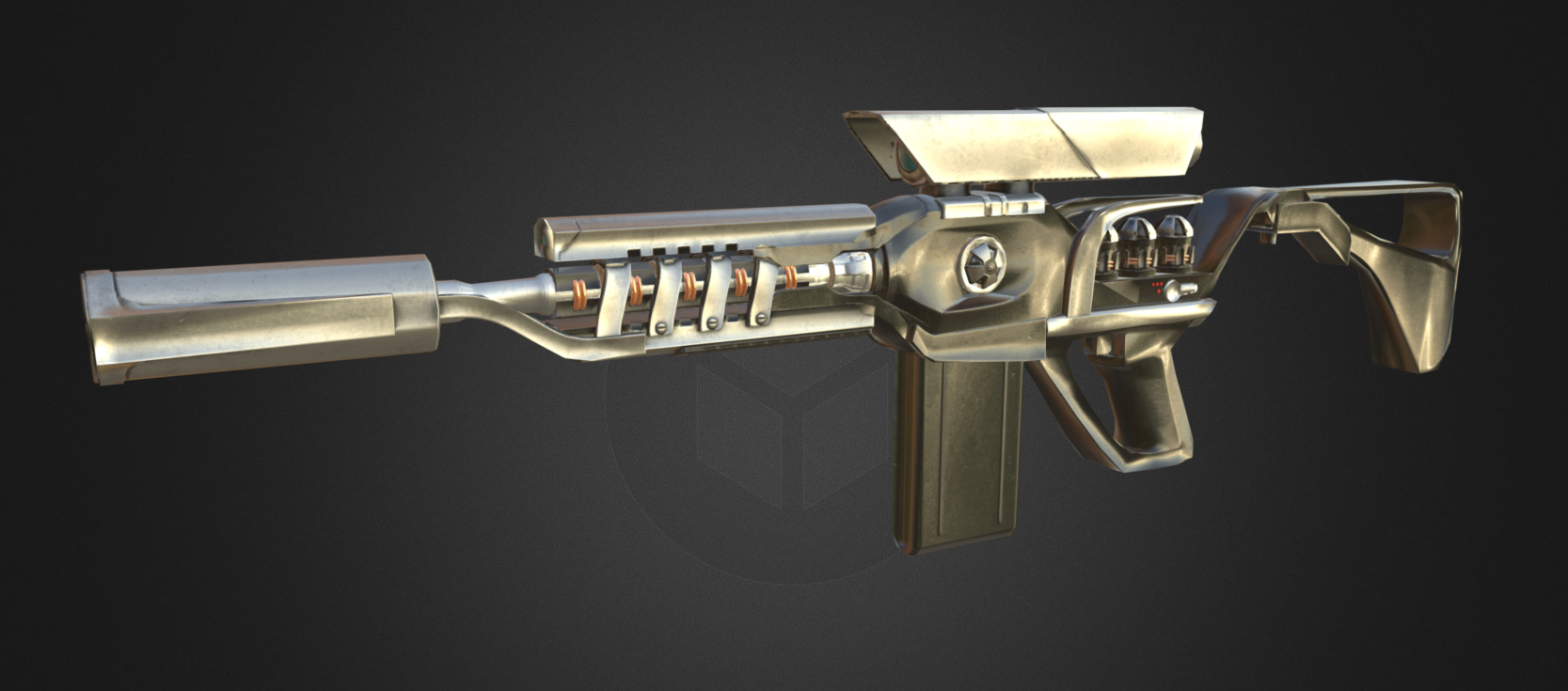 Gauss Assault Rifle by Denis Keman on Sketchfab
If you've been following us for a while, you know that that's a given, and a premise of our whole game, really. When we set out to build Spy DNA, we wanted to provide the player with as realistic a combat simulation as possible, while still making it a game.
The main implication is that the realism makes for a slightly different set of perks and challenges than a typical shooter. We want for the player to be able to use the common sense and knowledge of how things work in the real world to navigate the game. Basically, if you think doing something would get you (or the opponent) hurt or killed in the real world, it should be the same in Spy DNA. Case in point, head shots. Best to avoid them. Or land them on your enemies.
But on top of that, the weapons also need to look the part. If we gave our soldiers guns that look like they'd be hard to get through an ordinary doorway, or were too heavy to even lift, the realism and the immersion go out the window. Don't get me wrong folks, there ain't a thing in the world wrong with games that do that, but it's just not where we chose to take Spy DNA.
So while designing the weapons, working together, Jason, Denis and I have been periodically taking a step back to check whether the weapon still looks usable, practical, and like something that you could imagine the military of 2075 using. You could overhear us having conversations about making sure that we don't eject brass into the user's face or hands, or make the shiny trim reveal the position of our sniper.
We put a lot of thought into the ammo feed position, grips, and how easy would it be to reload or unjam in a firefight, what accessories the owner may want to add and where, and so on. Denis put immense attention to detail into each weapon, and as a result we have game guns in which the sights align when you're looking at them like you'd be aiming. The fact that it's a 3rd person game where the player will most likely never see these little details doesn't mean that we don't pay attention to them.
Most weapons in our game will have a range of accessories/extensions such as scopes, sights, grips, bipods, and extended ammo clips that the player can choose to equip to add a touch of personalization to their kit.
If our Early Access really takes off, we should have the funds to make more customizable parts for the guns, including rare mods, color schemes, and accessories that can only be gained by completing certain missions.
Stay tuned for the announcement of our Greenlight campaign!