An Elseware Entertainment representative, Chuck (Maestrorage), recently attended the Vortex competition in Toronto, Canada. His goal was more to get the word out about Warcry than to win anything, and in that regards we did what we set out to do. Read on to find out how it all went down.
The Vortex competition is all about indie studios and developers much like us pitching our game ideas to a panel of well respected game industry veterans and gaining valuable feedback regarding the project's feasibility and allure.
So it was of course not even a question whether we at Elseware would go and throw our beloved Warcry into the mix! It's a 3 day event, the first day was boot camp, lots of keynote speakers and presentations about the shifting game industry. There was so much useful info here it blew my mind! Everything from the social media boom to the dying traditional venues and warning signs of other traditional means of getting a product across a market going obsolete. One of my favorite moments was meeting Peter Williams, the creator and inventor of the universal cellphone voting system for the insanely popular America's Got Talent! Here is me grinning like an idiot (I'm far left in case you don't immediately see idiot grin boy).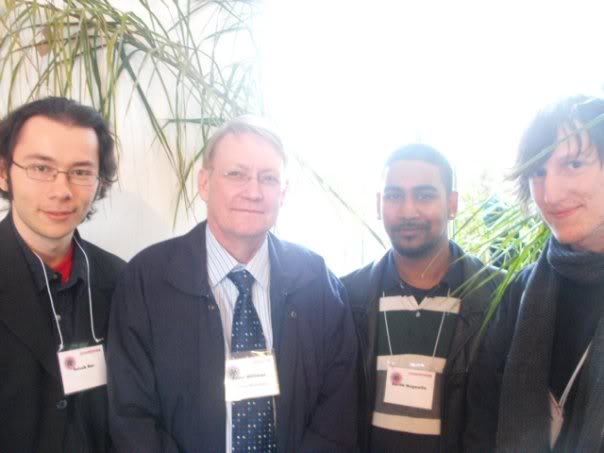 But Day 1 wasn't just listening, the networking gala at the end was what I really wanted. I put on my favorite lipstick, stuffed my proverbial bra and started whoring Elseware out. Passing out cards, cd's, chatting up with indie studios and making friends in general. I immediately understood now why people are paying hundreds of dollars to go to these events across the country. From now on, I'm going to be a network whore. It really is all about who you know, for years now I've had the good fortune of meeting lots of great people by accident. Who would have thought actually seeking them out would yield an intense spike in that network circle! Plus they were giving out free food and drinks. <3. Sadly I didn't take pictures here, I just didn't want to look like a reporter while I was whoring us out. I have a big bulky SDLR so it's not something I can slip into my pocket.
Day 2 is where things got interesting. It was after all PRESENTATION DAY! I started it off by being 20 minutes late. I couldn't help it! The freaking city decided today at the time I was leaving (and I left an hour early mind you) was the time most of the highway would be closed and the route I was taking to be affected by massive pot holes (or plot holes since just like in a story these things are very unpleasant). So detour after detour. I get there and rush up. My friend called me half an hour before I left and was screaming into the phone 'Bro, I sure as hell hope you've got financial aspects to your slide, they're tearing apart anybody who hasn't created a budget and timeline' Breaking into a cold sweat because I didn't realize that was something they wanted I had to create a budget and timeline on the bus. Thankfully I was able to throw something together and so the project was once again in acceptable presentation form by the time I got there. Here is me preparing to talk about the project and i'm about to bring the house down and everybody knows when you bring the house down you need to be on higher elevation to survive.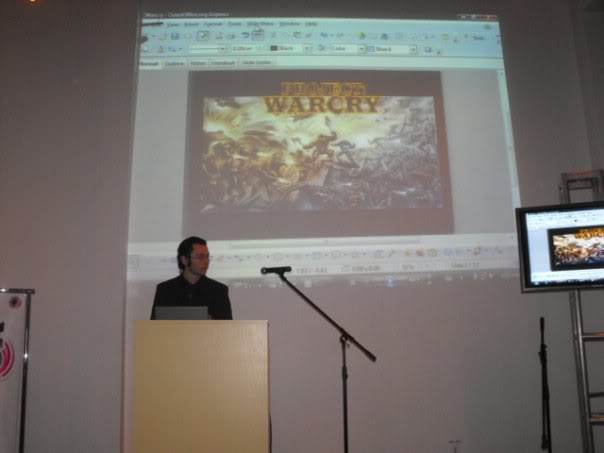 The presentation went fantastic. I talked about the many intense features planned for Warcry, the involved community, briefely about the storyline, our reasoning everything I could in the time frame given. Of course this was all rehearsed I wasn't making up stuff as I went, if I learned one thing over the years you never do that on presentations that matter.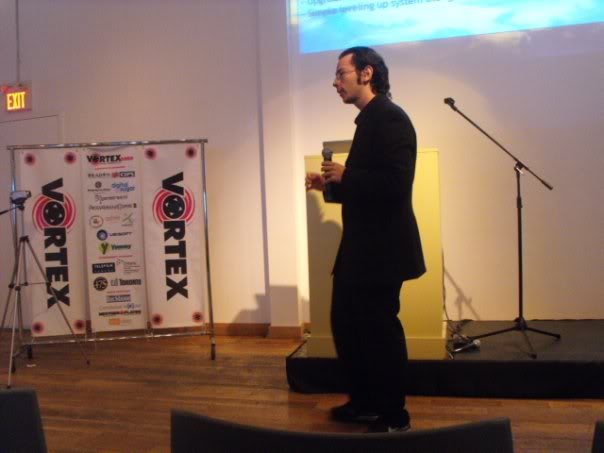 It was very encouraging that ours was the only presentation that garnered clapping from the judges. The questions that normally tear at the game was only questions that tore at my own presentation. Things like 'you should have put that slide ahead/behind' etc. They asked questions with great interest, how would the Hyperions/Protectorate of Man play out, micro management etc. To boot after the presentation I was approached by many people asking if we were looking into a publisher funding our project. When I told them we weren't right now they seemed kind of surprised. It was clear they were expecting us to be looking, that we should already be developing this with funding. In the presentation I had guesstimated that we would need about $2.4 million dollars, to which the judges said this was pretty small and were expecting something more. Hey, it was my first budget, I thought 2.4 million would make them stand up angrily and remind me publishers were not made of money! Day 2 ended on that high note. More networking, more bra stuffing/lip gloss to whore us out some more. By now most people knew who I was, but I wasn't happy until everybody knew who I was. At the end of the day they would announce who the finalists were to move onto the next day. Sadly Warcry did not make the cut. I was shocked. Why not? I beelined to the judges and demanded answers. They were all up in my grill about how awesome our game was and the fact that a Tower Defense based game and a wii magic wand type game got through and ours didn't seemed like a kick in the gnads. The answer was simple, this gathering was all about social media gaming. Though our project was really good on the grounds it stood, it didn't fit the profile of their intentions. Here is me imagining how awesome my speech would be once we won.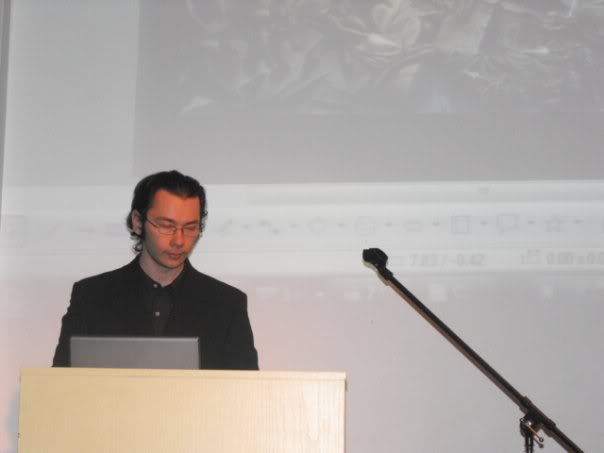 -Chuck
Visit Project:Warcry!