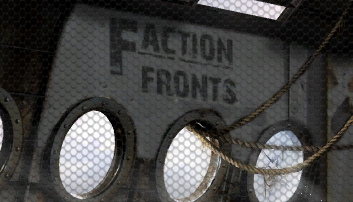 For those of you who are curious about the next update I've put together an article to clue you yp on the matter. First a recap; A few weeks ago I released v1.2.2. Due to a few recent emergences of crashes I have been forced to release yet another update. The reason I have chosen a full update instead of a patch is an update will be able to maintain the mod much longer than a minor patch.

- This month I am proud to announce the launch of the official Faction Fronts twitter page. Here you can track the development more intensly and stay punctually updated with the progress of Faction Fronts. Hope I see you all there :)
Moving on to whats new in 1.2.3...
In short 1.2.3 isn't really a hugely massive overhaul update, this update mainly tends to correcting stability problems and updating the mods core structure for later enhancement. At this point in time I am glad to say that all known crashes to desktop errors have been corrected, regretably there are still a few bugs left behind from the actual game files but we are slowly progressing to provide a more stable mod. If you are getting problems such as NPC's staying in one place etc; quicksave "F5" the quickload F9. We reccomend that you all use the "smart save function - Esc-S" regularily to save your progress (incase your saves corrupt), this is a rare trait native to Clear Sky's engine...
Next a summary of the changes we made...
• Fixed a crash at limansk
• Removed scripted Free Play due to instability
• Added ambient audio updates
• Introduced Faction Fronts Launcher
• Optimized random weapons
• Fixed a typographical error
• Optimized the interface
• Added new grass textures
Crash wise I have ruled out two repeat offenders, they won't be troubling you no more :). Thanks to all of you who have been sending crash reports. Your assistance and commitment is greatly appreaciated! Thank you...
For those of you who are thinking: "free play....... remove.....whaaaaaat" please note that the Free play function - ( as a whole ) has not been removed we have added in a feature titled "the Wish Granter" which is an interface allowing teleportation. If you want to know how to activate free play refer to the below instructions:

If you would like to have free play after completing the storyline, you must first take down streloks' psi-barrier. Immediately after that is done you need to press esc-f1 to activate "The wish granter" then under the tab "Maps" select a place to teleport to and then press the button in the bottom right corner "apply". You will then be able to play in Free-Play.
Audio updates? YAY!
Thanks to the ace community modder "imperialreign" you will all have more refined and realistic ambient audio. The update to the audio has been included and installed over the previous version running in this mod. I hope you all enjoy!
Faction Fronts launcher 0.1.1
It's finally here! This feature will available in both the .exe and archived versions. At the moment it's quite simple and has no insanely usefull functions but it will save you time and as far as I can gather that's worth the trouble! If you thinking "Why not just leave it out" I can assure you we will improve it...
Otimization of random weapons
No major updates here, just a little rebalancement. Nothing too special here
Fixed a typographical error
I can't think of anything intelligent to say XD

Optimazation of the interface
Cleaned up some jagged parts of the mainmenu
New grass?
Special thanks to Holden and the Lurk team, for providing the grass textures for me to tweak to fit this mod. It's basically photo-realistic grass. Rest assured we have made a performance assessment before passing this change ;), there will be a minimal drop in performance.
Well thats basically it for now, I'm uploading the files tonight. v1.2.3 will be available in both .7z and .exe, this way it fits everyone :)
Until the next emission arrives, happy stalking ;)
- Predator_828