Hello everyone,
First of all let us say how greatful we were and still are to have had the opportunity of sharing the development of this project with a community as amazing as this. As would be expected with a project as massive as this, there were ups and downs but you guys stuck it out with us regardless. We have had some amazing feedback from a lot of you, as well as a constant flow of ideas and things you would like to see in The Forgotten. After all, this was meant to be a mod for the community. Sadly things did not quite work out the way we had anticipated. On a number of occasions actually. One might almost say that this mod was riddled with bad luck at times.
A Brief Look At The Past
The very, very original idea for TF came to us, while I was standing on my best friend's balcony in Mattsee, Austria one summer night. Mountains on the horizon in front of us, a valley to the right, lake Mattsee to our left and the name-sake village below us. Back then, Tom and I came up with the stepping stones of what was to become The Forgotten - it was in the form of a little mod called Psycho Hill. Some of you may remember it.
That soon began to grow beyond what we had expected, more developers had to be brought on board and things really began to roll. It was great, we thought that was going to be one hell of a horror mod for the community. Then the first, somewhat big, obstacle struck.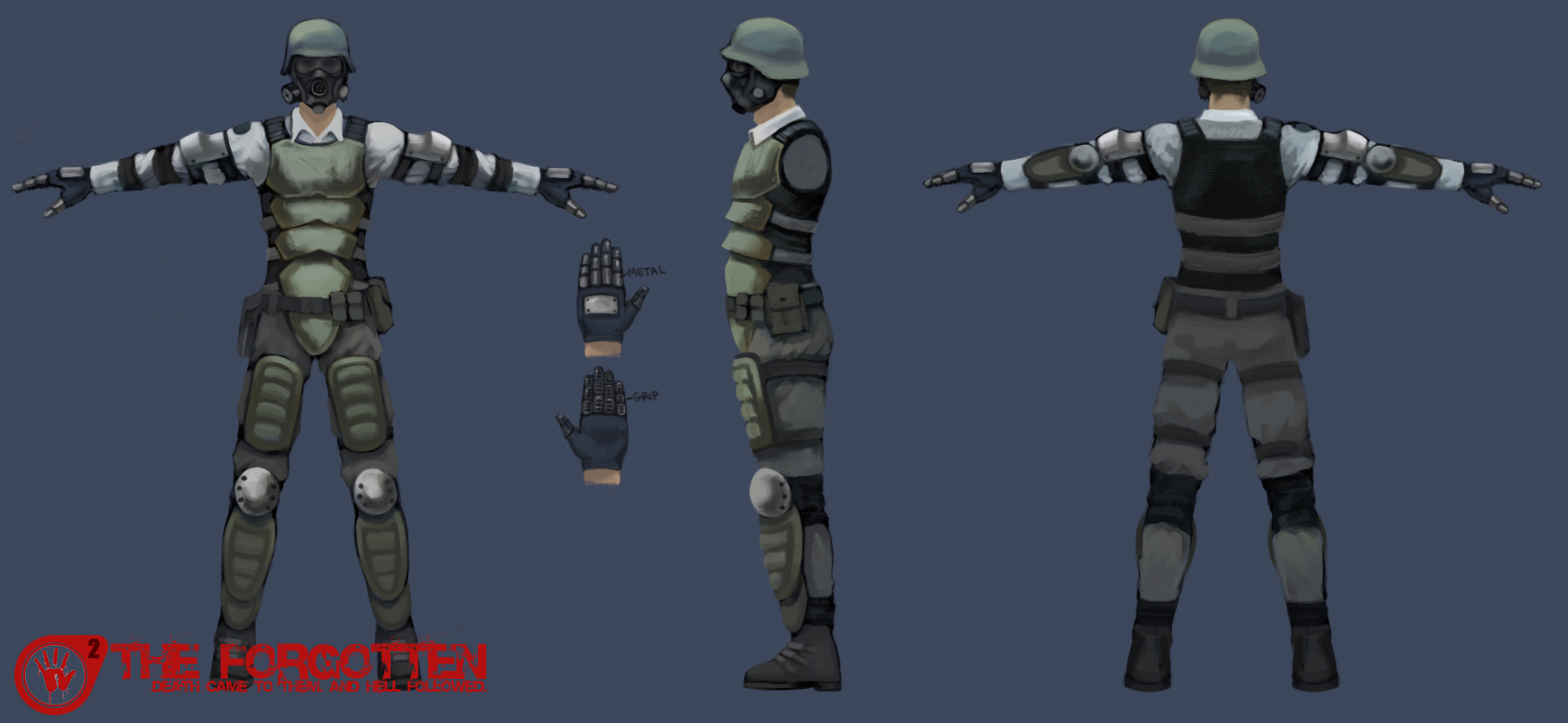 Half Life 2 was released. In itself that wasn't a problem. After all, we were all psyched up about it, being avid fans of the HL series since it was first released in 1998. But it did mean that we had to re-structure our mod, to make use of all the new features the Source engine offered to us developers. And so it wasn't long until The Forgotten was born.
We had set ourselves a rather ambitious project, but we knew we could do it. After a couple of changes, getting to grips with the possibilities of Source and finally re-working the initial design documents, we had ended up with a pretty solid concept. The TF design document, back in 2006, included chapter based gameplay, focused co-op multiplayer with up to four player slots, a very story-driven environment, cinematics, a dynamic day-night system, a range of severely twisted and horrifying mutations and of course a carefully chosen arsenal of weapons that would make sure the player would never win the uperhand. After all, where would be the fun in a horror mod, where you don't have anything to be scared of ;). There were smaller features as well that would make full use of the Source engine, such as barricading yourself, or nailing up doors and windows. It really did seem ambitious, but we knew it would just take time, and time was something we had enough of. Or so we thought.
The Struggle Continues
At the time we set out to designing this mod, we knew there wasn't anything availble or being worked on at the time, that looked anything like The Forgotten. Sure there were loads of fantastic mods, with equally fantastic features, levels, etc. However, as far as we knew, The Forgotten was the first in line to become a co-op horror game. Sadly we were mistaken, because not long after we got into the development Left 4 Dead was announced. Again, we found ourselves in a bizarre situation. We all thought it was fantastic news...a retail game, essentially for the extended HL universe, that focused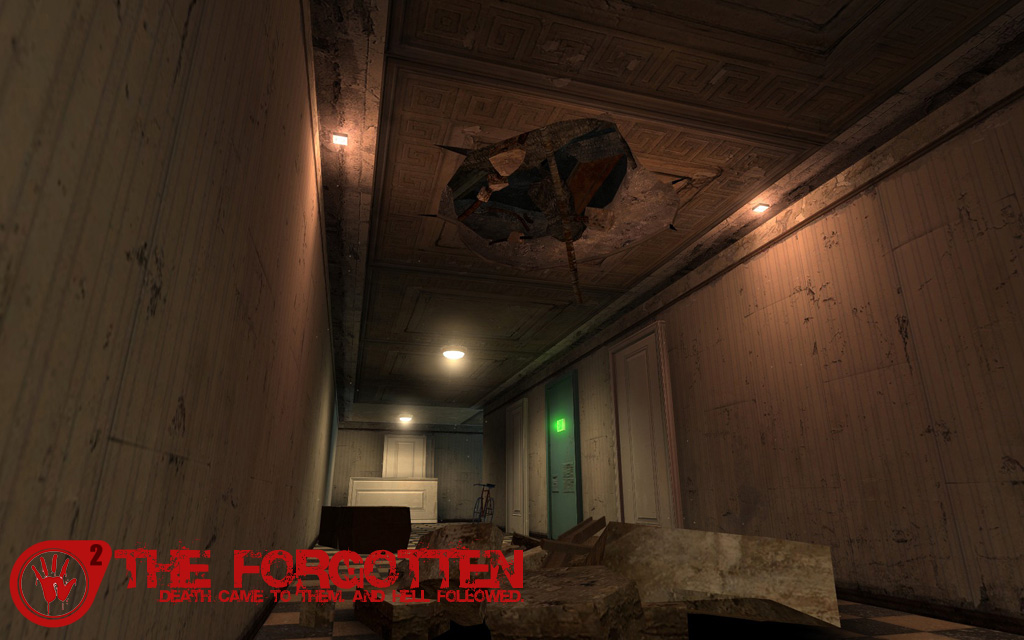 on ZOMBIES! And not just zombies, but beating the hell out of them with your friends. There was a god after all hehe. The buzz immediately died down though, once we realised that there was no way in hell we would release TF before L4D. To us it looked like we would have to change and restructure the TF design document yet again. We didn't think the community would look at the mod and say "well, they've been here first". It simply doesn't work like that. It turned out our competition wasn't within the modding community, but instead came from the very top of the line. They had the resources, the team and the money, not only to make sure Left 4 Dead would be an instant cult classic, but also to make sure the game would play in a league of its own.
So, we set out to changing the design document again. By this point the motivation and morale of the team had taken a big blow and things didn't look great. In hindsight, we should have called it a day back then, rather than continuing a struggle and opening ourselves up to the point where we simply wouldn't manage to get things done. The most recent changes to the design document caused arguments amongst the team. The changes didn't appeal to everyone, people left, others simply went inactive and at the end, we had nothing to show for it. Well, that isn't entirely true. We did have things to show and promote, however that was for the scrapped version of The Forgotten.
Looking Into Noir
We took it upon us to redesign the structure of The Forgotten, when possibly we should have just come to terms with the wall we've hit. More and more things were being added to the design document, and not enough was actually done in terms of developing anything. It was a vicious cycle we had gotten ourselves into. The more we changed to differentiate ourselves once again, the more frustrated a lot of the development members became. Eventually we had decided it would be best to get away from the old face of TF and become something different.
After a lot of thought and work, we ended up with the concept for Noir: Chronicles of The Forgotten. Essentially it was going to be TF in episodic format, similar gameplay, but instead of chapters, or campaigns as L4D calls it, it was one solid block, split into, well, episodes. Again, the idea didn't stick too well with the development team, but it was better than what we had before. However, the damage was done. We had already tipped too far over the edge, and regardless of how we reacted, we were going to tip further and further, until we would eventually fall hard. Eventually everything grounded to a halt, when majority of the team split and everything as left in limbo. I shall leave it at that, as the trouble that ensued is in the past, and thats where it belongs.
Future Endeavours
So what will the future hold for us, you might ask? Don't worry, we won't bite, if you didn't. Well it is safe to say that we will not withdraw from the modding community because of a project that has gone from very promising to being a shadow of its former self. Mistakes need to be made, in order to learn from them. We have made plenty, and we definitely have learned a lot. A core group of the former development team of The Forgotten has come together and founded Blackout Studios. We are currently working hard on a new Half Life 2 modification, that will push the boundaries in art, originality, atmosphere and gameplay once again. For the time being we are keeping everything media related away from the community's prying eyes, but are confidently aiming for a first, internal build around the end of summer to test our features and make final adjustments before announcing it publically. We are hopefull that you will be keeping an eye on us, and hence are advising everyone to come check out our profile on modDB, where you will soon find updates and news releases.