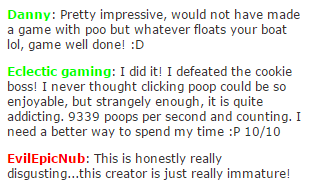 Let's take a look at the first critique, by Danny.
Danny says: "Pretty impressive, would not have made a game with poo but whatever floats your boat lol, game well done! :D"
Wait, did he just type in "lol" in his critique, what's going on? Now he's definitely right... Poop can make things float, it's very good at it but looking at the rest it's simply sarcastic... ANYONE can make a game with poo!
Let's go on and take a look at Eclectic gaming's critique:
"I did it, I defeated the cookie boss! I never thought clicking poop could be soo enjoyable, but strangely enough, it is quite addicting. 9339 poops per second and counting. I need a better way to spend my time :P 10/10
Here again, what is going on? Did he really play my game or was he paid by a... Sorry, went too far... Well, so far very good critique.


And lastly but not forgotten... what was his name now again? Oh right, EvilEpicNub:
"This is honestly really disgusting...this creator is just really immature!!!1one1!!!one!!!one111!!"


Well, I would end it right here but just look at how perfect this critique is. He claimed that I am immature... It's, it's perfect!