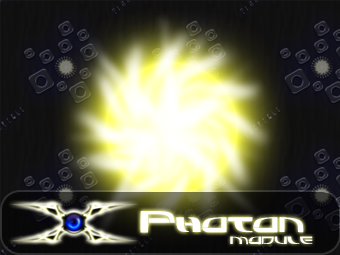 This module is used to render the OpenGL library, which in future will allow the engine to use on other platforms. The engine supports the following things:
Basic drawing functions (primitives: vertex, normal, (multi-)texture coords, fog coords).
Shared Render Targets.
Pixel buffers (surfaces for drawing; dynamic textures).
Shaders (XESL(Xeeff) / ARB program).
XET (32bit, 4-channel) textures.
Display lists (quick model drawing).
Render matrix transformations.
Drawing elements of Chaos module.
The combination of the Chaos and Photon modules (in two-dimensions), this movie shows in best way:
Afew screenshots of some of the effects offered by the engine. Still I create new effects.
Cartoon (prototype), Black & White, Waves, Gaussblur (as bloom) (prototype), Inversion, Gray scale, Bump/Normal Mapping, Hologram, Refraction Mapping (Click to resize):