The latest WarZone mod now includes the Online Recon Mutator!
While playing Single Player, you will be notified automatically when Multiplayer
Servers appear online.
Online Recon
The multiplayer servers are obviously scarce, but players are out there. People create matches but are unwilling to wait around very long for someone to show up, and mashing on the multiplayer browser refresh isn't fun either.
With the OnlineRecon mutator, if you are playing single player and someone else creates a match online (Multiplayer or Skirmish), a message will appear on your screen.
When you press escape, a new option will be available that will take you straight to the multiplayer server browser, without having to return to the main menu and login.
Obviously, this won't create matches out of thin air. But at least there's a chance that if while you're enjoying the awesome single player story and someone happens to create a multiplayer match somewhere, you'll be able to join them right away before they give up waiting.
I have no idea how much of a difference this will make in reviving online games, but since it runs in the background while you play single player you have nothing to lose. Why not give it a try?
Let me know what you find out!
Enabling Mutators:
Just like all other mutators for BiA, you will have to enable the OnlineRecon in the Mutators menu while selecting the chapter to play. Just click on "Mutators" at the bottom left in the Chapter selection screen.
Ubi.com Account:
The Mutator uses your saved Username and Password from the last time
you logged in online for multiplayer. If you have not created an
account, or did not click on "Remember Password", you must go to the
normal Multiplayer menu and login with "Remember Password" checked.
Usage:
Just play single player after you activate the Mutator as instructed
above.

When a non-empty server is online, that does not require a password to
join, a message will appear that is similar to what you would see in the
multiplayer game browser.
New Faster Menu Options:
Now you can access the Multiplayer Online Game browser directly from the
Single Player menu.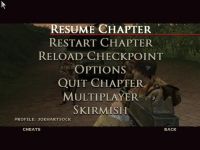 You don't have to leave your game, which means you can join servers as
soon as they appear, and if for some reason the server is no longer
available, you can return to your Single Player game without interruption.