The two currently planned factions for Conflict Terra are the PN and the NKG. But just who and what are the PN and NKG? Well, I'll let the developer for the PN cover his faction if he desires, but I think I'll explain some things about the NKG, the faction I am designing.
First off, NKG is an acronym for Nihon Kadousei Guntai. But what does that mean? It is Japanese (with what I can imagine is inadequate grammar; two years of college Japanese leaves your mind swiftly) for Japanese Mobilized Force. For those who are interested, the kanji for this is: 日本可動性軍隊。
The idea behind the NKG is that Japan returns to the militaristic nature that it embraced for so many centuries, and combats the majority of the rest of the world, which comprises the PN. Both sides have giant robots, or mechs, and of course, it was Japan in this fictional alternate universe that first developed the technology. So why is Japan doing this?
The Dev Team has discussed back story a little, but neither of us are amazing storytellers and we could not decide on anything interesting or unique enough. Some ideas were thrown around, but for now I'm content with saying we want to focus on gameplay first.
A basic overview of the faction begins with the Oda Class Cruiser, or Flagship. This is your starting unit, a large, flying airship that is armed with missiles. The Flagship itself can't actually build anything though, so if you want to get your base going with factories and defenses you'll want to use the Morph function. The Flagship morphs into a Mobile Headquarters, which serves as a centralized core for your base. The Mobile Headquarters can build a handful of units to help you get on your way to build up your base. It is also lightly armed against early attackers, and has short-ranged radar coverage. The Mobile Headquarters, though, is meant to be indeed "mobile", and so it can morph back into the Flagship, to move to a different location for whatever reason you see fit.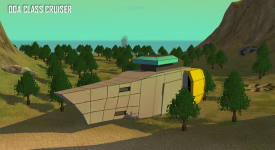 Engineers can build a wide range of buildings, ranging from economy buildings that give you resources to factories to produce more units to static defenses. The military units of the NKG are divided into six groups: Mechs, Tanks, Aircraft, Navy, Submarines, and Cruisers.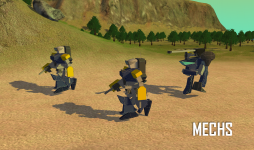 The Mechs are the power units of the NKG, overall moving more swiftly and over more versatile terrain than Tanks, and pack a bigger punch. The downside is that they are more fragile than Tanks, and take a longer time to build and are more expensive. They vary from the quick Hojo Combat Mech to the beastly, experimental Izanagi Assault Mech.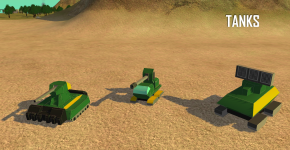 Tanks are relics of a fading facet of combat in the alternate universe of Conflict Terra, but still play an important role. Cheaper and easier to build than Mechs, they have hardier designs and thicker armor, and can take more damage. Their weapons do not size up with those used by most Mechs, though, so they tend to be used to hold lines rather than break them. They vary from the basic Oukami Type Tank to the large, long ranged Sekai Type Tank.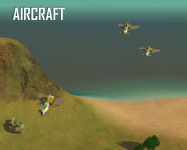 Aircraft have always been important in combat since their invention, and that holds true in Conflict Terra. Fighters can patrol the skies to keep out bomber raids, and rocket planes are equipped to attack the ground. The NKG has even recently developed a fighter armed with new beam weapons, that promise to slice the sky apart.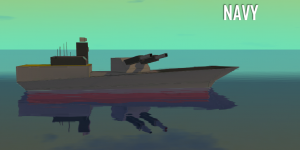 The NKG Navy maintains the powerful tradition of past centuries. Armed with long range guns and capable of missile barrages, the NKG Navy can hold its own. The Ii Class Battleship remains the staple of the NKG Navy, protecting larger, more expensive ships such as the frighteningly far-reaching Minamoto Class Battleship.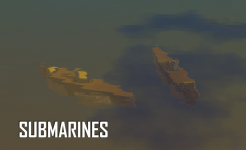 The NKG also patrols the seafloor with a small but sufficient selection of submarines. Torpedoes are able to easily sink most battleships, and some submarines are even equipped with anti-air capabilities, to strike and ambush any aircraft patrols.
Finally, Cruisers make up the final facet of the NKG military. Large, expensive vehicles of the sky, there are three main classes of cruisers: the Oda Class Cruiser, which is the Flagship, the Uesugi Class Cruiser which serves the role of Battlecruiser, and the Maeda Class Cruiser which is used to shuttle troops and machines of war through the sky. Strong and hardy, the Cruisers should not be left out of any NKG battle.
The NKG is designed to eventually, and hopefully, play as an RTS faction that demands a player use several if not all facets of the army to win. Units have important roles, and excel in these roles while lacking any strength in their "wrong" roles. Of course there will be some give in this idea, to accommodate for different playstyles, but I hope I'm able to achieve a fun and powerful faction in the end.
On a final note, yes the NKG is very much influenced by Japanese Mecha overall, the most obvious and powerful influences coming from the Gundam franchise. I tried, and I believe I succeeded, in giving my units their own unique feel and style, and while I maintained some standards in the genre I also tried to break some. An example is that none of my mechs have humanoid hands. Their weapons are directly mounted to their arms or shoulders. I also delved into different overall designs other than the typical humanoid shape. While the unit models are all in a somewhat vague and loose scale to each other, they don't represent their "actual" "concept" sizes, but they mechs are intended to be somewhat smaller than your typical, say, Zaku or GM.
I hope you can enjoy my faction, the NKG, as much as I enjoyed coming up with (most) of these guys and that you'll be able to enjoy Conflict Terra overall.
Sanada_Ujio