The Protectors modified the single-player part of the original game drastically. Here is a summary of what you will encounter when playing in this mode.
1. Tutorial
We modified the tutorial to explain in more detail how the basic game mechanics work, while also showing a sequence of the overall storyline. Veterans of the original game should also try the tutorial out, as it teaches some new concepts and their use, concepts not present in the original Warlords Battlecry game.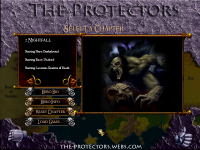 2. Chapters
Before launching right into the game with your self-created hero, we suggest you first play the 18 chapters (totaling 90 scenarios + text based quests). These are short versions of a campaign with a predefined hero in a fixed timeline. Although decision making is more restricted in these chapters (as the heroes have their own personality ~ and not yours), it does reveal certain parts of the game and explains what happened story wise before the great invasion of the dragons.
3. The Protectors Campaign
This is where the major plot reveals. Here you create your own hero, the main character of the story, and interact with the whole world of Etheria however you want. All decisions are yours to make and the fate of all the characters met in the chapters are in your hands. The final outcome will always be based on your actions, and your actions alone. Expect to meet new side-quests, tourneys, treasure hunts, competitions, secret locations, dungeons, math problems, friends and foes, puzzles etc. Each play-through will be different, as there are random triggers present as well.
4. Skirmish
Finally, you can play with your own hero just for fun in custom-made scenarios or multi-player maps using the AI. Modes such as Slug Fest, King of the Hill, Capture the Flag and others are available.
As you can see, great adventure awaits. Download the mod now and become a beta tester. You will not regret it!