M.I.N.E.
Multiple Integrated Necessary Enhancements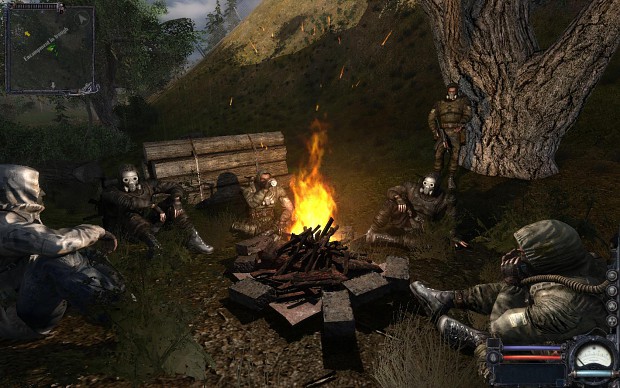 BACKGROUND
M.I.N.E. is a compilation mod, so to give fair and proper credit, we have compiled a list of the major works used in this compilation.
FEATURES
Graphics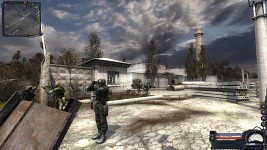 M.I.N.E. features a graphics overhaul, courtesy of the following generous contributors:
Predator_828
Faction Fronts
ArtistPavel
Clear Sky Complete

CrommCruac
Absolute Nature
Absolute Structures
Atmosfear

smrtphoneusr
SMRTER Zone Mod for Clear Sky
Sound
A complete sound overhaul has been achieved, with the following notable features:
Atmospheric Soundtrack
A completely new, atmospheric score composed by Sclera. Sclera's Clear Sky soundtrack overhaul adds a new level of unprecedented mood and dread to the Zone, making each venture more horrifying and believable than the last.
Hand-selected Inventory & Weapon Sounds
Hand-selected weapon sounds from around the community ensure a thrilling experience with each pull of the trigger. Each sound was hand-picked, with no weapons fire sharing the same sound - a truly unique experience further enhancing gunplay in Clear Sky.
Mood Enhancement Through Sound
Through carefully selected entries, all sounds in M.I.N.E. showcase the power of community driven work working together.
Atmosfear, Absolute Nature, and Absolute Structures
by CrommCruac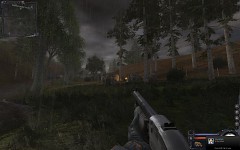 Through the generous contribution of CrommCruac, we are able to provide you with Atmosfear + Atmosfear BlowOuts, providing an even deeper level of fear and dread as you traverse the Zone. The aging decay and decrepit conditions of the zone are further enhanced by the same artist's nature and structures texture packs. The highest quality Nature textures were also used to ensure an authentic and awe-inspiring experience.
EasyEconomy
by Separation | Anxiety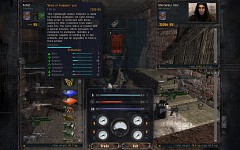 With EasyEconomy, the harsh do-or-die economies of other mods are discarded in favor of an easy-to-use trade-encouraging system. Key features of EasyEconomy are:
Traders give you more money for items
Traders give much better discounts on items if you are in the right faction
Traders are now specialized; for example, Duty sells Warsaw weapons, and Freedom sells NATO-based weaponry. The bandits run a Black Market where virtually anything can be bought - but if you're not a member, expect to pay double the price!
Traders sell more equipment, and are now more likely to carry useful items
Bartenders sell artifacts at double-cost in case you need a unique or rare artifact.
Sidorovich and other traders now vend consumables to bridge the gap in between the Swamps bar and the Garbage bar.
The Stalker Faction at Agroprom and Sakharov now sell game-ending weaponry and equipment to ensure everyone has a fair shot at the Chernobyl NPP.
Each faction's trader now has tiered trades, which increase in utility and selection of product based on your reputation with that faction, and the faction's overall status. Expect to see game-ending weaponry available for purchase if you help your faction to victory.
Discounts are now more pronounced if you are a faction member or in excellent standing with a faction.
Sidorovich gives a TRUE discount on his wares after completing the Loot quest in the Cordon. Further assisting Wolf in the Rookie Village opens up even more purchase options from Sidorovich, making him one of your preferred traders thanks to your enhanced discount.
Armor-piercing ammunition, .357 ammunition, and other rare items can now be bought under the tiered system, encouraging players to help their faction or help the faction in question if they are not in a faction.
Duty and the scientists at Yantar pay more for mutant parts than other factions, with Duty offering higher rewards as an incentive for STALKERS to slay the abominations in the Zone.
Enhanced Gunplay
by Separation | Anxiety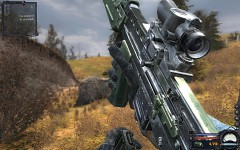 One of the hallmarks of the STALKER series is the gunplay, or gun fights. One of the things that was frequently noticed was the poor performance of most weapons. We might all recall instances where a TOZ-34 failed to kill a bandit wearing a leather jacket, or a pistol that failed to save us from a charging mutant.
These days are now over!
M.I.N.E. hopes to change these scenarios by making the following adjustments:
Pistols are now significantly stronger, and are more than capable of defeating mutant and human alike. Knockback and shot power have all been increased.
Weapons are now tiered so that each branch (NATO vs. Warsaw) have weapons that become progressively stronger the higher up in quality of weapon you purchase. Now your hard earned cash will buy you more powerful weapons.
Armor-piercing ammunition available for sale by traders
Shotguns are significantly stronger, to enhance their utility and usage by players. Enemies are thrown back by the power and weight of these ferocious weapons.
Magnum caliber pistols are now available and provide considerable stopping power for their otherwise smaller magazines. The Desert Eagle now fires .357 caliber ammunition, reflecting the actual real weapon's available chambering.
Aim-down-sights has been enabled for all weapons by default, preserving weapon zoom (feature from Faction Fronts).
Knockback and shot power for sniper rifles has been increased, making them lethal long-range killing tools with the ultimate stopping power.
Enhanced Gameplay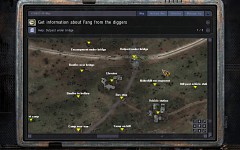 M.I.N.E. features a number of community-created enhancements that make M.I.N.E. the definitive mod in user-friendly stalking. Credits are shown below for each contributor.
Faction Fronts by Studio 828
M.I.N.E. is built on a Faction Fronts base, generously supplied by Studio 828. This mod set alone adds many exciting features, including new items, new weapons, better textures, sounds, AI improvements, script fixes, improved stealth, and much more.
Forgotten Fiends & Forgotten Finds by Yuki's MicroMods
Cut-out mutants make a return to Clear Sky thanks to Yuki's MicroMods. Each mutant also has a chance of dropping monster parts which can be sold for quick cash.

Hades' Real Gore Mod
Realistic blood splatter is included thanks to this mod by Hades.
Blue Dots For Dead Bodies Mod by LuxZg
With this mod, dead Stalkers now appear as blue dots on the mini-map, making them easier to identify on the mini-map. Never lose the plunder of a dead enemy again!

PDA Map Pack by LuxZg
In this mod, map locations, often used in dynamic missions (Help: Camp Under Bridge) are now easily identifiable on your PDA thanks to each location being clearly marked on the map. Never lose your way again!
Realistic Weapon Names by Clay65
Clay65's mod replaces the stock Clear Sky weapon names (such as AKM 74/2) with their real-world counterparts, such as AK-74. This added level of authenticity contributes to the overall experience.
Cordon Flash Drive Fix by Ceano
Now the two missing flash drives in the Cordon are no longer an issue - with this script, helping a certain Stalker in the Garbage will give you both flash drives.
Hunger Mod by Ceano
Adding to the realism of the Zone, Ceano's Hunger Mod requires you to eat something every six hours - or suffer the disastrous consequences!
Stash Filler by Yuki's MicroMods
With this update, stashes around the Zone will now populate when you check them. Much like the gameplay in Call of Pripyat, stashes are now no longer tied to having the correct piece of information or you having to pay for that information. If you know where a stash is - check it once to populate it, and then check it again to claim your reward! Getting paid for your memory skills? What a novel idea!
CLOSING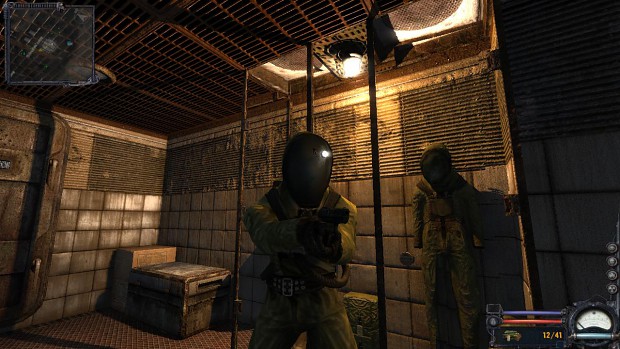 This is a preliminary list of changes, and is subject to change. All features listed are fully implemented in the current Beta which is being tested. If you have a mod you would like to contribute to this compilation, please contact Separation | Anxiety.