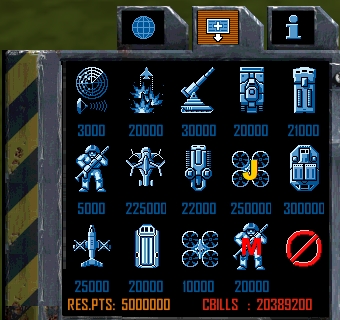 The support options had been extended in MC2X compared to the original MC2 since a long time. For (R45) the Support Options have been revised and further extended. Scout-Copter and Monster-Vehicle have been replaced by Transport-VTOL and JamFly.

This revised palette of support options is better adapted to tactical needs on the battlefields.
The Scout-Copter became obsolete with the implementation of the Camera-Drone.The Monster-Vehicle was just another weapon carrier with high-powered weapons but not a tactically new or important support unit.
The Transport-VTOL allows you to call in transport capacity to move your units to any point on the map where they might not be able to move on their own. Beside this it can capture enemy units from the battlefield to your inventory.
The JamFly is a Drone carrying a jammer. Thus your units can be protected from most sudden attacks or enemy units can be frozen for your attack.

Enjoy these new and unique features in MC2X.
wolfman