This mod is a template you can REMIX!
Don't like the particular visual style of this mod? No problem!

You are completely free to do anything you want with this mod. Remix it, copy it, repurpose it and release your own version of this mod. Include it with your megawads, do it in your own style and use it as a base for anything you want. I will appreciate credit if given (and I will feel happy about it), but it is not required. I don't want to "own" this mod or restrict anyone's creativity with copyright bs.

Basically, do whatever the hell you want with this mod.

Here is a template: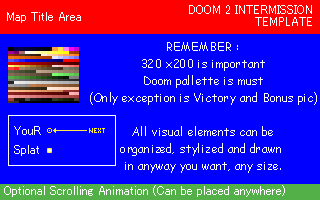 Download the mod, save the template image above and go nuts. Rip and tear this mod into your image!
Moddb.com
Have fun!