The Nightmare from Outspace is very influenced by Super Metroid. For that reason, we're spending a lot of time looking at the levels, designing the paths and pretty much figuring out how everything should work together.
Right now we're working on a proof of concept demo, so all the work is being done on a smaller scale. However, we're still trying to figure out how all the things work on a larger scale (for example, how the sections of the demo would fit in a larger game). That's kinda tricky because we need to keep an eye into the future, so to speak.
For the full game we plan to have 5 different areas, connected with elevators, trams, and other things. Each area will have a distinctive look, so you can tell one area from the other without us having to put a big sign on the screen every time you enter an area (this is also why the map will be useful). However, the idea is that you can go back and forth between areas, so all those paths and things should work both ways.
There are times, however, when a path is destroyed as you travel, so we are also designing alternate paths to reach the areas.
This example is an area we designed. It was pretty simple, and it has changed a lot, but you can see how there were connections between the big boxes.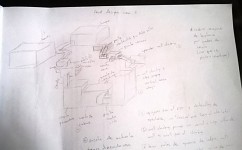 As you get the new items, you can access other areas, so at first that area could only be traversed in one direction, but then you can go in the opposite direction with no problem, after you've gotten a couple of new items.
Next we would take a section so we can figure out what's inside. This is a rough sketch of another area. It's changed a bit, but not really that much (mostly the position of the rooms is different, but they all fit as part of the same purpose).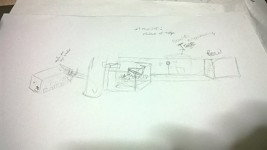 Pretty much for every room we figure out how players can go from any point to any other point. We do this because we're leaving open the possibility that someone reaches certain room from a different path, and they still need to traverse the room somehow (unless there's a reason why they can't do it, be it for story or event progression reasons).
Making a linear game would be a lot easier, but we think it's cool when players come up with moves or ideas that we hadn't thought of, so they end up doing things we didn't expect. So, for this specific scenario we are trying to give people a little more room to try things, so they can use those things to explore the environment.
At some point it'd even be cool to see someone beat the game without having to collect all the items, because that person opted to play the game differently, realizing the items were somehow optional. I'm not saying that's the game we're making, but rather that it'd be fun to watch.